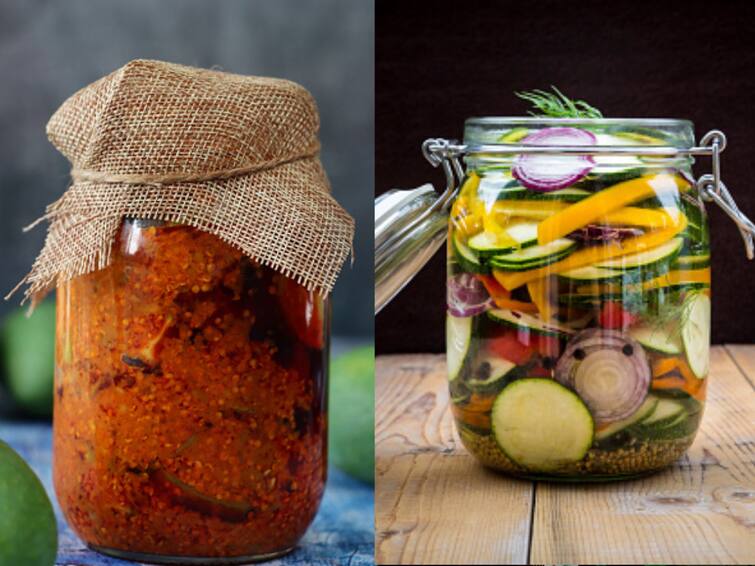 New Delhi: Pickles have been an integral part of our culture and are often associated with the childhood joys of stealing them from the kitchen and enjoying them in a corner. But, the word pickle derives from the Dutch word 'pekel', which means brine. And, when it comes to the word 'achaar', though the etymology of the word is unknown, it is usually assumed to be of Persian origin. In Persian, Achar means powdered or salted meats, pickles, or fruits preserved in salt, vinegar, honey, or syrup.
Pickles are classified into three types in India: those preserved in vinegar, those preserved in salt, and those preserved in oil, with oil being the most popular pickling medium in India. Mango pickles are by far the most popular Indian pickles, with hundreds of varieties available. Apart from this, pickled foods also include vegetables, fruits, berries, and gourds, as well as leaves, shoots, roots, and even chicken, prawns, and fish.
Every state in India has numerous distinct sorts of pickles that heat up their palates and taste buds with a fiery and tangy hit of flavours, with mangoes, lemons, and chillies undeniably being the most popular ingredients. Here are some of them:
1. Mesu Pickle:
Mesu is an essential feature of Sikkimese cuisine made from fermented bamboo shoots and has a superb tangy flavour. Mesu is drawn straight from the Limbu dialect of Sikkim where'me' means young bamboo stalk and 'su' means sour.
2. Amla Pickle:
The combination of sweetness and saltiness will make you want to eat more of it. Because it is high in Vitamin C, amla pickle provides numerous health benefits for people who have diabetes, high cholesterol, and cancer. It is created with sesame seeds, fenugreek seeds, and yellow mustard, which gives the pickle a unique flavour. 
3. Brinjal Pickle:
This Goan treasure, which is a delightful blend of sweet, spicy, and somewhat sour, will make you fall in love with brinjals even more.
4. Bhoot Jolokia Achaar:
Assam's Bhoot Jolokia, also known as the Ghost or King Chilli, is so hot that locals claim they wish they were dead after eating one! However, its pickle is enjoyable. The spicy red chilli pickle is frequently laced with bamboo shoots, and despite its fiery flavour, it is well-known around the world.
5. Hibiscus Leaves Pickle:
Roselle or Hibiscus leaves pickle, also known as Gongura pacchadi is a famous pickle in Andhra Pradesh. Additionally, Telangana, Tamil Nadu, Maharashtra, and Karnataka also consume it.
6. Coconut Pickle:
Coconut pickle is a popular accompaniment to South Indian breakfasts, but it is perishable, unlike other pickles. It is made with grated raw coconut and takes much less time to prepare than most Indian pickles.
7. Sundakkai Urugai:
Sundakkai, or pea aubergine, is not simply converted into a pickle but is first preserved in brine until it matures. Pickling takes place only before eating, where it is tempered and served. This Tamil Nadu delicacy is served with curd rice.
8. Kair Ke Achaar:
This pickle is a speciality of Rajasthan and is abundant throughout the winter. It is made from Kaidrr, which are dried and used berries. Kair ke achaar is a sour and tangy dish that goes well with any Indian bread or rice.
9. Garlic Pickle:
This Indian pickle is a delicious addition to any meal. The taste of the chilli garlic pickle recipe varies by state, depending on whether you favour sweetness or spiciness. Garlic has beneficial therapeutic qualities due to the presence of allicin. Garlic cloves are steeped in lemon juice and left in the sun to soften in the traditional method. Once the cloves are porous, they are marinated in a generous amount of oil, salt, vinegar, and spices, which act as natural preservatives.
10. Beetroot Pickle:
Although it is not widely known, this Indian pickle can be a tasty side dish to any dinner. Beetroot has numerous health benefits as well and it improves and purifies your blood. Beetroot pickle is popular in Kerala, where it pairs nicely with spicy biryani and raita. The beetroot is sun-dried and pickled with vinegar, which imparts a pleasant flavour that tantalises the taste receptors.