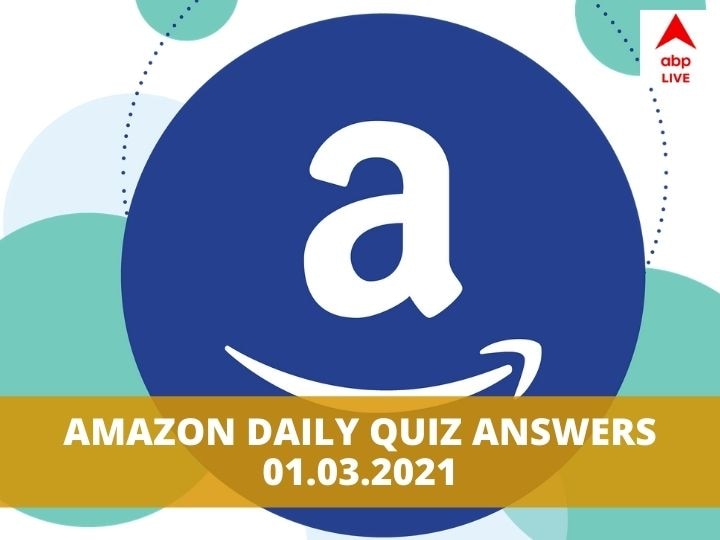 Amazon Daily Quiz is a contest on the online shopping app portal that rewards the winner with Amazon shopping credit points. By answering some simple questions the participant stands a chance to use these credits to shop via the online shopping app.
The Amazon Quiz for 1st March 2021 is live on amazon website and app as well and today 10 lucky winners are can ₹10,000 Amazon Pay Balance. As we all know Amazon as the leading ecommerce channel which givens and opportunity to their customer to win exiting price daily by answering quizzes. The prizes for today's quizzes include ₹10,000 Amazon Pay Balance as it also included mobile phones gadgets.
Today's Amazon Quiz 1st March 2021 Information
Today's Amazon Quiz Prize: ₹10,000 Amazon Pay Balance
Amazon Quiz Date: 1st March 2021
Amazon Quiz Time: 8am–12pm
Winners List Declaration Date: To be announced
You Can Check Amazon Quiz Winners by select the quiz you participated in Amazon website in and check your name in the Winners List. Amazon Quiz Winners are Also Intimated by Amazon Via Mail. Winners can get them Featured on Amazon Quiz page by tweeting their Prizes with Hashtag "#WonAOnAmazon"
Here Are Answers for Today's Amazon Quiz Contest:
Question 1: Sri Rakab Ganj Sahib, that featured on the Punjab tableau at the 2021 Republic Day parade, was the site of the cremation for which Guru?
Answer for the Question: Guru Tegh Bahadur
Question 2: Which country got badly affected by the storm Filomena, which unleashed the heaviest snowfall on the Iberian peninsula in 50 years?
Answer for the Question: Spain
Question 3: Recently released book 'Gazing Eastwards' is a lively and arresting account of which historian's first visit to China in 1957?
Answer for the Question: Romila Thapar
Question 4: Prior to changing in 1894, what type of ball was used to play this sport?
Answer for the Question: A soccer ball
Question 5: Louis and Lola were what kind of animals owned by this famous American singer?
Answer for the Question: Llama
Step 1: Download & install the Amazon Android app or iOS app from Google Play Store or Apple's App Store.
Step 2: Sign in into your Amazon Account
Step 3: Go to Amazon app > Offers > click on Amazon Quiz 8 AM to 12 PM. Another way to go to the Amazon Quiz page is by clicking on the Menu > Programs and Features > FunZone 
Step 4: click on Amazon Quiz Banner & start the quiz by tapping the "Start" Button
Step 5: You have to answer the five questions correctly in the Daily Amazon
Step 6: The Amazon Quiz lucky draw winners are announced on the winner's list declaration date
For all information on results, upcoming quizes follow: Amazon Quiz Answers