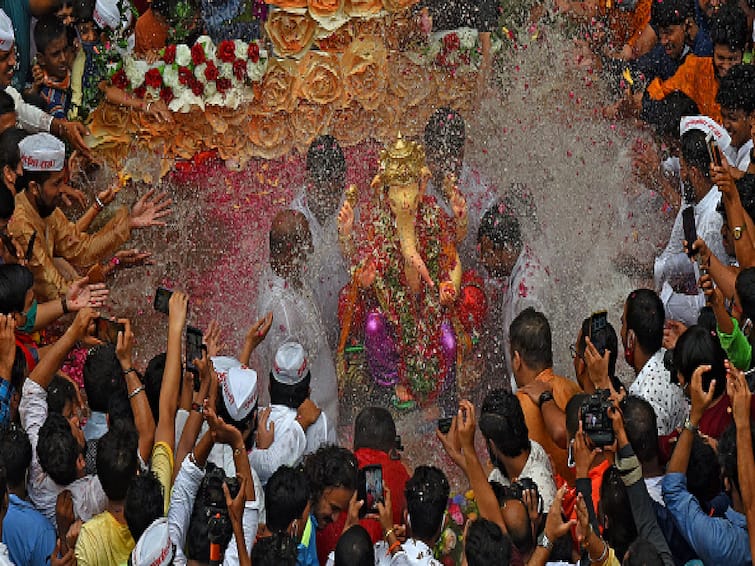 New Delhi: Ganesh Chaturthi, the ten-day festival dedicated to Lord Ganpati, was celebrated across the country with zeal and vigour. The celebrations conclude today, September 9, with Ganesh Visarjan, also known as Anant Chaturdashi.
Devotees bid farewell to Bappa on this day with the belief that he will return to their homes to bless them next year.
Anant Chaturdashi is observed in the month of Bhaadrapad in the Hindu calendar. On this day, the 14-knot "Anant Sutra" is tied to the hand after worshipping Lord Vishnu.
On this day, devotees also recite the story of Anant Chaturdashi while bathing and worshipping Lord Vishnu.
Who is Bhagwan Anant?
This tale goes back to the Mahabharata. Once Yudhishthir asked Krishna about Anant and why is Anant Chaturdashi celebrated. He wondered if Anant was Sheshnag or Brahmor Parmatma.
Krishna responded that he himself is known as Anant, who was born in the Vasudev clan, who took the avatar to destroy demons and lessen the burden of the earth. He was only Vishnu, Jishnu, Shiv, and Anant, and that there is no difference between him and Sheshanag.
Yudhishthir then inquired about the significance of this vrat and who was the first to perform it.
The story behind Anant Chaturdashi:
There was once a girl named Sushila. After Sushila's mother passed away, her father, Sumant, a Brahmin, remarried a woman named Karkash. Sushila's stepmother, however, used to bother her and cause her a lot of problems. 
Sushila who grew up to be a wonderful woman. But, she carried this unfavourable sentiment with her throughout life and, when the time came for her marriage, made the decision to leave her home with her husband Kaundinya.
While they were moving, they passed from a neighbouring river. Kaundinya saw the water and decided to take a bath. In the meantime, his wife Sushila noticed some women praying close as he was taking a bath. She joined them out of curiosity and inquired about their worship, to which they replied that they were honouring Anant and went on to explain the significance of his vow.
They told Sushila that some fried flour and Anarase needed to be prepared in accordance with the vow. Half of those are served to the Brahmins after preparation.
Then, for worship, a cobra made out of a holy grass named Darbha is placed in a bamboo basket. An oil lamp, incense sticks, and fragrant flowers are also among the worship supplies. After that, t The snake is provided with some of the prepared food.
A silk string, called Anant is attached to the devotees' wrists at the conclusion of this. It is often coloured with kumkum and has 14 knots. Womenfolk tie the knot in their left hands while the men tie it in their right hand.
The main purpose behind this vow is to earn purity of the divine and prosperity. This vow is kept for a period of 14 years by the devotees.
Sushila decided to keep Anant's vow after learning about it. The womenfolk taught her the rituals and tied the sacred thread around her left hand.
Following that, both the husband and wife prospered miraculously. Everything was fine until her husband Kaundinya asked her why she had made the vow. When when she told him, he was furious!
Following an argument, her husband took the thread and threw it in the fire. Suddenly after that incident, the family was struck by a string of misfortunes, and they were reduced to poverty. It was only then that he realised it was all because of Anant.
He wanted to make amends for his mistakes. So he resolved to perform a strict penance until Lord Ananta appeared in front of him.
Kaudinya muni then set out in search of Anant, constantly praying. He wandered the forest, asking about Anant to a mango tree, a cow with a calf, a bull, two lakes, two donkeys, and an elephant. Finally, being exhausted, Kaudinya muni collapsed.
Bhagwan Anant then arrived on the scene as a Brahmin and later gave Vishwaroop Chaturbhuj darshan.
When Kaudinya asked him, why so many things and elements couldn't tell him where Bhagwan was, the answer was that they couldn't see him because they were sinners in their previous life.
He then advised Kaudinya to take a 14-year vow to worship Lord Anant and fast on Anant Chaturdashi to reclaim his lost wealth. Kaundinya made a promise and began observing an Anant Chaturdashi fast for 14 years in a row.
Kaundinya did as he was instructed and thus, they lived happily ever after.