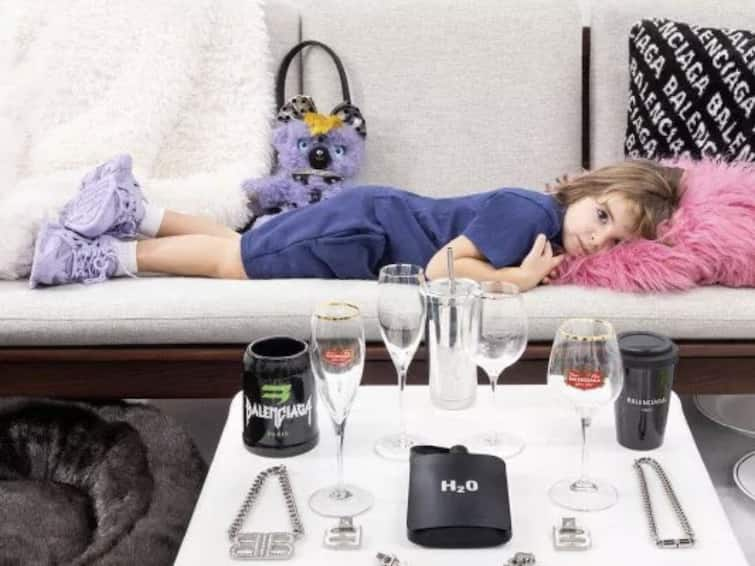 New Delhi: Balenciaga, a high-end french clothing and accessory company, has recently come under fire and sparked a significant controversy with its "sexualized" ad campaign that features children. The brand has recently issued an apology for two of its ad campaigns, and also sued the producers of one. It has also filed a lawsuit for $25 million in damages against set designer Nicholas Des Jardins and the production company North Six.
According to the filing, Balenciaga alleges that North Six and Des Jardins included the court documents' photographs without consulting the brand, which was "malevolent or, at the very least, extraordinarily reckless."
Amid the backlash, reality TV star Kim Kardashian, known to be a Balenciaga fan, has said she is re-evaluating her relationship with the brand after she was stunned at the pictures.
In a statement released on Monday, Kardashian, who formerly served as the ambassador for Balenciaga, said, "As a mother of four, I have been shaken by the disturbing images". This came after several days of silence.
She continued, "The safety of children must be held with the highest regard and any attempts to normalize child abuse of any kind should have no place in our society — period."
I have been quiet for the past few days, not because I haven't been disgusted and outraged by the recent Balenciaga campaigns, but because I wanted an opportunity to speak to their team to understand for myself how this could have happened.


— Kim Kardashian (@KimKardashian) November 27, 2022
Talking about her future with the brand she said, "As for my future with Balenciaga, I am currently re-evaluating my relationship with the brand, basing it off their willingness to accept accountability for something that should have never happened to begin with — & the actions I am expecting to see them take to protect children."
The ad campaign:
The two ad campaigns in dispute were Balenciaga's Christmas 2022 and spring 2023 advertisements, both of which were captured by photographer Gabriele Galimberti. The advertising campaign for Christmas included teddy bears dressed in what appeared to be S&M-style leather attire. They were actually teddy bear-shaped plush handbags that Balenciaga sells. Although visually reminiscent of S&M clothing, the leather straps actually serve as the bag's straps.
Child models were chosen for this campaign while holding teddy bears in BDSM and bondage gear. In one of the images posted on the company's website, a child could be seen next to a purse that had the Supreme Court records of the Ashcroft v. Free Speech Coalition case, which was fought to uphold virtual child pornography.
There was also another photo that showed a child lying on the sofa with bondage gear around her, next to a glass of wine.
Response of celebrities:
In response to the controversy they had sparked, celebrities severed relations with Balenciaga after their images from the brand's ad campaign went viral on social media.
Celebs including Kim Kardashian, Oli London, and Aleksandra Huk strongly opposed the Balenciaga photoshoot because it promoted paedophilia, child pornography, and the sexualization of minors.
Kanye West, ex-husband of Kim Kardashian and a past collaborator with Balenciaga, came under fire for the industry's lack of response to the scandal.  
Balenciaga's Response:
Balenciaga released a public apology and took the pictures out of their advertising campaign in response to the significant outrage. Additionally, they stated that they intended to file a lawsuit against the advertising campaign's planning and design teams.
In its apology, Balenciaga wrote, "The campaign for spring 2023, which was meant to replicate a business office environment, included a photo with a page in the background from a Supreme Court Ruling 'United States V. Williams' 2008, which confirms as illegal and not protected by freedom of speech the promotion of child pornography."
The luxury brand further added, "We take full accountability for our lack of oversight and control of the documents in the background, and we could have done things differently."
After the issuance of the apology by the brand, Kardashian added, "I appreciate Balenciaga's removal of the campaigns and apology. In speaking with them, I believe they understand the seriousness of the issue and will take the necessary measures for this to never happen again."
Photographer Gabriele's Response:
Photographer Gabriele also explained his stance on the matter with a statement that he released on Instagram. He said, "Following the hundreds of hate mails and messages I received as a result of the photos I took for the Balenciaga campaign, I feel compelled to make this statement. I am not in a position to comment on Balenciaga's choices, but I must stress that I was not entitled in whatsoever manner to neither chose the products, nor the models, nor the combination of the same." 
He went on to say, "As a photographer, I was only and solely requested to lit the given scene, and take the shots according to my signature style. As usual for commercial shooting, the direction of the campaign and the choice of the objects displayed are not in the hands of the photographer. […] Also, I have no connection with the photo where a Supreme Court document appears. That one was taken in another set by other people and was falsely associated with my photos."