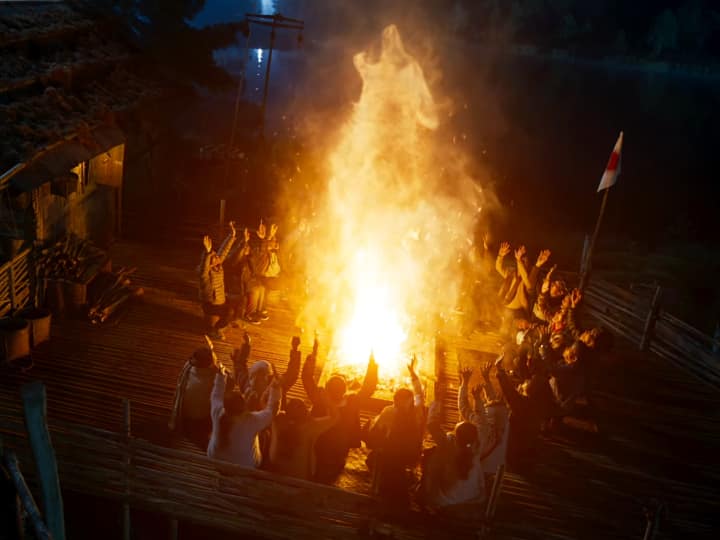 New Delhi: The star duo Varun Dhawan and Kriti Sanon's next appearance will be in 'Bhediya', a horror comedy directed by Dinesh Vijan. On Friday, producers of 'Bhediya' released a gruesome new teaser of the film, as well as the announcement date of the film's trailer. The film is set in the mystical hills of Arunachal Pradesh, and the teaser shows off the terrifying figure of the werewolf.
A sign reading "Witness the awakening of the legend" appears on screen as the 60-second trailer starts. There are brief glimpses of bats flying over a house, a group of people chanting a prayer in front of a wolf-shaped fire, and, finally, the fire transforms into a wolf. The teaser concludes with a horrific image of the wolf crashing through the door and jumping as the title name, 'Bhediya', comes.
Watch the teaser here:
This teaser is the ideal peek, showcasing what we can anticipate and making us hungry to see more. The trailer for 'Bhediya' will be released on October 19th. 
It would seem like Amar's most recent film will consist of a fantastic monster comedy that will be sure to have everyone laughing and getting scared. The audience is anticipating the same adrenaline rush with this film.
Varun Dhawan and Kriti Sanon are reuniting in Bhediya after working together for the first time in the Shah Rukh Khan film 'Dilwale', which was released seven years ago. Following the critical and commercial success of 'Badlapur', producer Dinesh Vijan and Varun Dhawan are reuniting for the film 'Bhediya.'
Along with them, 'Bhediya' also stars Deepak Dobriyal and Abhishek Banerjee. This will be director Amar Kaushik's third feature film. This follows the horror-comedy 'Stree', which starred Rajkummar Rao and Shraddha Kapoor, as well as the comedy-drama 'Bala', starring Ayushmann Khurrana.