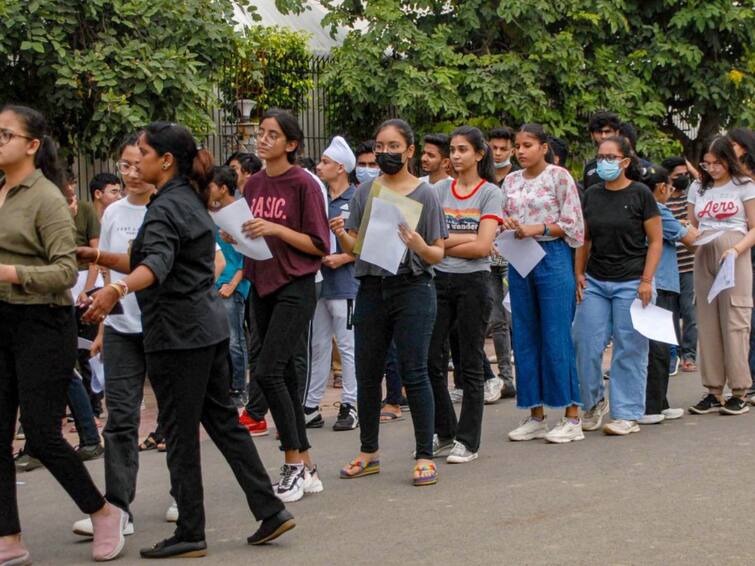 CUET 2022 Phase 6 Exam: The Common University Entrance Test-Undergraduate (CUET-UG) 2022 phase 6 exam will start from today after the National Testing Agency (NTA) released the admit cards on August 21 for the CUET-UG Phase examination to be held till August 30. The phase 6 examination will be held on August 24, 25, 26 and 30. A total of 1.91 lakh candidates will take the exams in this phase, the NTA said in a release.
The Phase 6 exam will be conducted in 385 centres across 241 cities, including nine cities outside the country including Manama, Doha, Dubai, Kathmandu, Muscat, Riyadh, Sharjah, Singapore, and Kuwait City.
ALSO READ: JEE Advanced Admit Card 2022 Out Download IIT JEE Hall Ticket At Jeeadv.ac.in (abplive.com)
The second day of Phase 5 on 22 August (Monday) was scheduled in both slots for 79459 candidates in 347 Examination Centres throughout 234 cities across 33 States/UTs.
Phase 5 of CUET (UG) – 2022 also continued on 23 August (Tuesday). The examination started in 349 Centres in 235 cities throughout 35 States/UTs across the country.
In both slots, Uttar Pradesh had the maximum number of candidates 36036 with 91 Examination Centres followed by Delhi with 11252 with 22 Examination Centres. Daman & Diu, Manipur, Mizoram, Nagaland, Puducherry and Tripura had one Examination Centre each.
Phase 1, Phase 2, Phase 3 and Phase 4 involving about 10.03 lakh candidates are now over.
The debut edition of the Common University Entrance Test (CUET)-UG, which is the second largest entrance test in the country, has been marred by several glitches causing exam cancellations and leaving the aspirants worried and struggling, reported news agency PTI.
Technical glitches marred the fourth phase of the CUET on August 17 forcing the NTA to cancel the exam at 13 centres affecting over 8,600 candidates. The affected candidates will get a chance for a retest on August 25.
Education Loan Information:
Calculate Education Loan EMI