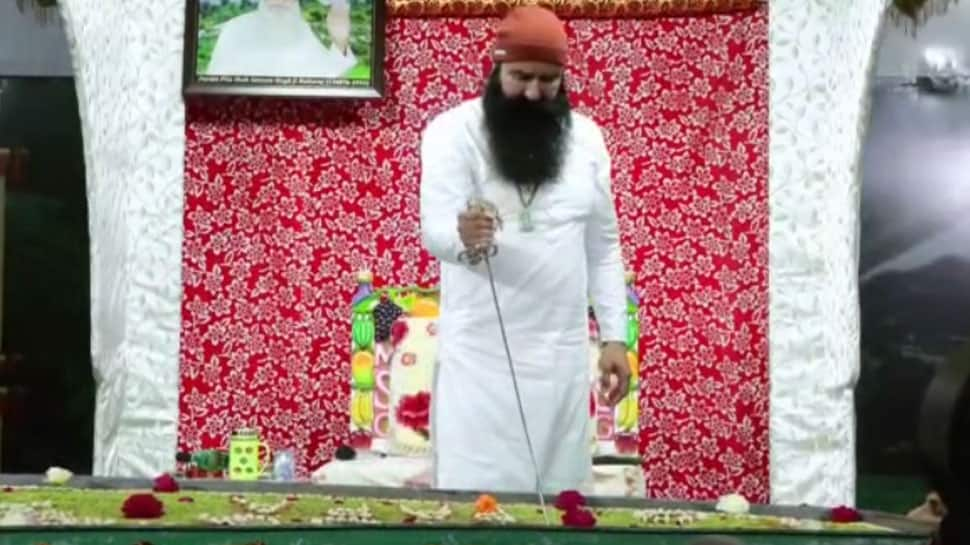 New Delhi: A video of Gurmeet Ram Rahim, the controversial head of Dera Sacha Sauda who is currently out on parole, is doing the rounds on social media platforms in which he can be seen cutting a giant cake with a sword. The viral video shows the Sirsa-Dera chief in a celebratory mood days after he walked out of Sunaria Jail in Haryana`s Rohtak district. Gurmeet Ram Rahim is serving a 20-year jail term for rape and murder. He was recently granted a 40-day parole by a local court. The Dera chief arrived at his Barnawa Ashram in Uttar Pradesh's Baghpat after his release from jail.

In his bail application, the Sirsa-Dera chief had pleaded before the court that he wants to attend an event to mark the birth anniversary of former Dera chief Shah Satnam Singh on January 25. 

In the purported viral video, Gurmeet Ram Rahim Singh 'Insaan' chief can be heard saying, "Got a chance after five years to celebrate like this so I should cut at least five cakes. This is the first cake."

Haryana | Dera Sacha Sauda chief Gurmeet Ram Rahim was spotted cutting a cake with a sword during his ongoing 40-day parole (23.01) pic.twitter.com/bVrD6ce5q7
— ANI (@ANI) January 24, 2023
A fresh row involving Gurmeet Ram Rahim has erupted since the public display of weapons i.e cutting a cake with a sword is prohibited under the Arms Act.

The Dera chief had on Monday virtually inaugurated a mega cleanliness campaign organised by his sect`s volunteers across multiple locations in Haryana and in some other states. The event was attended by some senior Bharatiya Janata Party leaders from Haryana, including Rajya Sabha MP Krishan Lal Panwar and former minister Krishan Kumar Bedi.

This is the fourth time in the last 14 months and second time in less than three months that Ram Rahim has been granted parole.  Sirsa-Dera chief was earlier released on parole for 40 days in October 2022 ahead of the Haryana panchayat election and the Adampur Assembly bypoll.

It may be recalled that a special CBI court in Panchkula had convicted Ram Rahim in August 2017 for raping two women followers. His conviction was based on the case registered by the CBI on the orders passed by the High Court of Punjab and Haryana in 2003.
The central probe agency earlier took over the investigation of the case that was registered at Police Station Sadar in Kurukshetra. It was alleged that former Dera manager Ranjit Singh, a resident of village Khanpur Kolian, Kurukshetra was murdered on July 10, 2002, when he was working in his fields at village Khanpur Kolian of District Kurukshetra in Haryana.

After a thorough investigation, CBI filed a charge sheet in 2007 against six accused and charges were framed in 2008 while, on October 8, 2021, the court convicted Rahim and four others in connection with former Dera manager Ranjit Singh`s murder case.