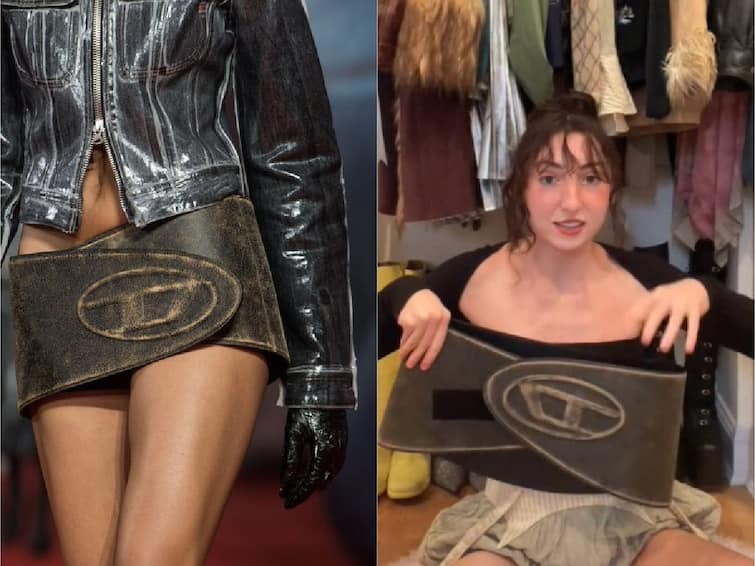 New Delhi: The fashion industry never fails to astound us, for it has once again come up with something that people cannot stop talking about. Amidst all the bizarre and out-of-the-blue fashion trends, this one seems the most eccentric. This is because it is not often that one wears a belt-like skirt. Yes, Italian clothing brand Diesel has come up with a skirt that resembles a belt and it has indeed astounded netizens.
The belt skirt from the company's fall/winter 2022 collection reportedly costs a massive sum of one thousand dollars and fastens with a Velcro fastening. The brand said that the low-waist belt "may be worn as a micro-mini skirt." It was once worn by Nicole Kidman too for a shoot.
The Belgian designer, who has been enjoying serious success following his critically acclaimed presentations at Y/Project and Jean Paul Gaultier haute couture, presented a jaw-dropping collection for his first in-person spectacle for the Italian denim brand. The collection explored a modern interpretation of the Y2K style. However, it was the eye-catching miniskirts that sparked a social media frenzy.
These skirts are so short that only the courageous can wear them. From a leather version in black, cherry red, and chocolate embellished with the brand's big emblem to a dramatic denim rendition with belt holes from top to bottom, the skirts have come up in a variety of designs.
A video of a Tiktok user, Adrienne Reau, in which she is seen unboxing the product and viewing it has become viral and has left netizens amazed but at the same time a little confused. Netizens kept on wondering whether the product is a skirt or a belt and also if such a piece of clothing is worth all that money.
Talking about the product in the video, she said that the product felt like rubber and she had worn it as a skirt for an outing but found it too impractical while walking and sitting.
genuine question. did y'all look at that "skirt" and think of practicality? pic.twitter.com/TB3mQsD27a


— Kenii★彡 (@notkennii) November 2, 2022
A user commented, "Because in my opinion is not just a miniskirt. Yes, Diesel categorized it as one in their collection but to me is a clothing piece you can actually layer up with so many items and be creative. ", while someone else commented, "I think that's an error on the designer's behalf. If you can't use what a product is designed for that is no longer a skirt. That is a belt."
Because in my opinion is not just a miniskirt. Yes, Diesel categorized it as one in their collection but to me is a clothing piece you can actually layer up with so many items and be creative.


— Lora Hoava (@HoavaLora) November 3, 2022
At the same time, a few people disliked this new piece of clothing saying, "That is the ugliest clothing item I have ever seen in my life.", and there was another person with, "at this point, I'm convinced diesel are trolling. velcro? there's no way"