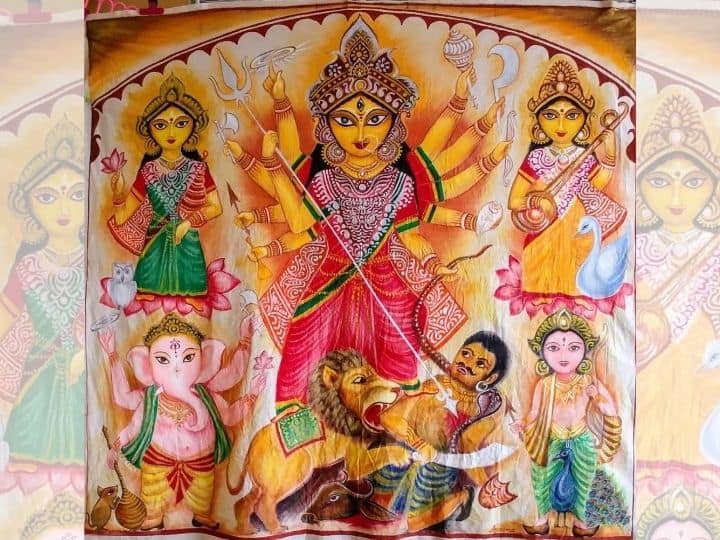 Mumbai: The Bombay Durga Bari Samiti is celebrating its 92nd Durga Puja this year. The puja with all traditional ceremonies and rituals, such as 'pushpanjali', 'arati', 'Shondhi Pujo' and 'bhog', will be organised at the Indian Medical Association Hall, Haji Ali, and will be digitally broadcast to all devotees through social media platforms Facebook and YouTube, keeping in view the ongoing pandemic.
The organisers said it's going to be a "no-guest Durga Puja this time as well", and that all programmes will be organised as per the norms and guidelines laid down by the Brihanmumbai Municipal Corporation (BMC) and the central and state governments.
The samiti has been orginising the puja since 1930, and this is only the second time that there will be a ceremonial "ghot pujo" instead of a "murti pujo", in view of the new normal.
"This is an ancient tradition. Ghot pujo means worshipping an urn symbolising the goddess. There will be two urns symbolising Maa Durga and each of her children," the samiti said in a statement.
The idol will be a three-dimensional clay-and-hay mural created by an artisan from Kolkata. 
"The mural will be adorned with traditional 'Shola pith', an eco-friendly and biodegradable material. Everything from Maa Durga's saree to her headgear will be created from this. The same theme will be maintained with rest of the deities — Maa Durga's children, Maa Saraswati, Maa Lokhi, Karthik, and Ganesh," the statement said quoting idol committee joint convenors Paromita Banerjee and Dola Banerjee.
"The theme is 'Danuja dalani mahashakti. Momo anonto kalyanodatri', which translates to 'O Mother, thou art the destroyer of demons. Thou art the benefactor of everlasting wellness. We bow to thee', said Paromita Banerjee.
"We have been celebrating Durga Puja in an environmentally-friendly way and hope to continue doing so in the years to come. After all Durga Puja is the celebration of the victory of good over evil and one of the greatest challenges that we face today is the ongoing pandemic and the threat to our world is now greater than ever," said Mitali Poddar, chairperson of the Social and Cultural Committee of the Bombay Durga Bari Samiti.
Special Cultural Programmes
Poddar said the samiti has always promoted performing arts and artistes from diverse backgrounds, and that their programmes reflect the cultural ethos of India.

A special highlight of this year's cultural programme is a sitar recital by budding young artiste Adhiraj Choudhary, the grandson of Padma Shri and Padma Bhushan recipient sitar maestro Pt. Debu Chaudhuri and son of Pt. Prateek Chaudhuri, who was also a renowned sitar player.
Young Adhiraj lost both his grandfather and father to Covid earlier this year.
As the year 2021 marks 100 years of legendary filmmaker Satyajit Ray, the samiti plans to host an exclusive interview with his son Sandip Ray. 
Besides, there will be a special musical evening by Kolkatar Gaanwala, a concept fusion band from Kolkata.