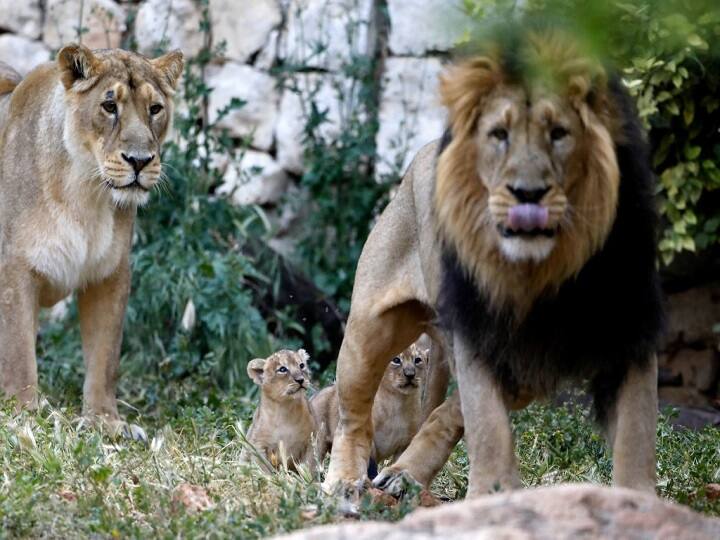 Hyderabad: As the Covid-19 pandemic continues to wreak havoc across India, eight Asiatic lions have tested positive for the novel coronavirus at Hyderabad's Nehru Zoological Park in what appears to be perhaps the first known case where an animal has been infected by the disease.
The Centre for Cellular and Molecular Biology (CCMB) informed the forest authorities over the phone that the RT-PCR tests of these big cats were positive, The Hindu reported sources at the zoo as saying.
The CCMB will now carry out a thorough examination of the samples for genome sequencing to ascertain if the strain came from humans or not.
In tune with the same, the zoo authorities are likely to conduct a CT-Scan of the lions, including four male and four female big cats, to know the impact of the infection on their lungs.
READ: Coronavirus Live Updates: Free Vaccine For All Including Those Above 18 In Chandigarh 
The results from the CCMB will be submitted to Nehru Zoological Park Curator VVL Subhadra Devi.
"Yes, the lions were tested after displaying mild symptoms. As of now they are active and are doing well," The Hindu quoted a forest as saying officer as saying.
He added the caretakers alerted the veterinary team after noticing on April 24 that these big cats housed in the 40-acre Safari area developed symptoms like dry cough, nasal discharge and loss of appetite.
They then took oropharyngeal swab samples of the big cats and sent them to the CCMB, where the scientists are likely to do genome sequencing to ascertain if the strain came from humans.
Check out below Health Tools-
Calculate Your Body Mass Index ( BMI )