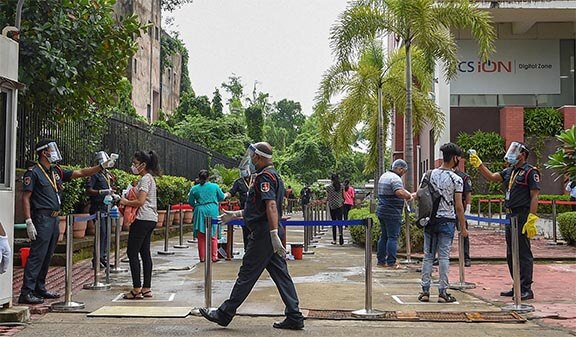 New Delhi: The All India Congress Committee Spokesperson, Prof. Gourav Vallabh, the National President of NSUI Neeraj Kundan & Ms. Alka Lamba on Friday, issued a joint statement in which they demanded attention towards the recent paper leaks. 
"From VYAPAM to SSC-2017 to CBSE Class X & XII-2018 to 28 Entrance Exams in Haryana to JEE Main 2020 (Assam Topper Scam) to JEE Main 2021 – the only one thing is common in above all is that these examinations have messed up the future of students of our country." 
ALSO READ: TN CM MK Stalin Urges PM Modi To Reconsider NMP Scheme
In the statement, they said that the "Paper Leak Government" is answerable to the young people who are unable to find jobs or score seats in reputed colleges due to the endless paper leaks. 
The Congress members stated that the situation has become more alarming as unemployment rate for the month ending August 2021 is rose to 8.32% and 15 Lakh people lost employment only in the month of August 2021 alone. 
Recently, the CBI has booked Affinity Education Pvt Ltd and its directors for alleged irregularities in the conduct of JEE (Mains) examination and carried out searches at 20 locations across the country on Thursday. 
It was alleged that the directors, in conspiracy with other associates and touts, were manipulating the online examination of JEE (Mains) and facilitating aspiring students to get admission into top NITs in consideration of huge amounts by solving the applicant's question paper through remote access from a chosen examination centre in Sonipat. The accused used to collect heavy amounts ranging from Rs 12-15 lakh per candidate across the country for the same according to a PTI report. 
In the AICC-NSUI statement, they questioned how a student can be sure that these types of frauds and manipulations have not happened in the other examinations that were conducted by the National Testing Agency (NTA)? They asked if such prestigious entrance examination JEE cannot be spared then what type of professionals are being generated? 
One of their main demands is an enquiry of the entire fraud under the supervision of a sitting Supreme Court Judge.
They also demanded holding the Education Ministry and National Testing Agency (NTA) liable for consistent frauds in JEE (Main) in 2020 & 2021 as they have the responsibility for conducting transparent and fair examinations.
"Is it not the responsibility of the government that every student out of 22 Lakh candidates registered for JEE Main (2021) to get a fair chance ultimately their future is at stake?", the questioned.
The CBI had arrested seven persons in connection with alleged manipulation of JEE Mains examination 2021. The agency has arrested two out of three directors Siddharth Krishna, Vishwambhar Mani Tripathi besides four employees Ritik Singh, Anjum Dawoodani, Animesh Kumar Singh and Ajinkya Narhari Patil, the officials said according to PTI.
Another person Ranjit Singh Thakur was arrested from Jamshedpur. 
Education Loan Information:
Calculate Education Loan EMI