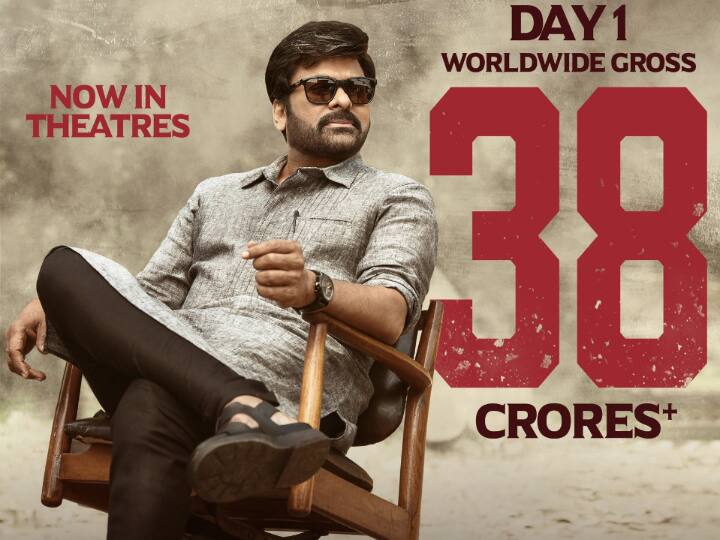 New Delhi: Mega Star of Telugu Cinema, Chiranjeevi is the pioneer of the quintessential 'Masala Movies' in Telugu cinema that has swayed audiences for the last four decades. His dances, his daredevil action scenes, his heroic elevations, his flair for comedy and so on is like a meal for the audience. Now with the latest release of 'GodFather', Chiranjeevi offers a very new Avatar of himself. 
The day 1 collection of Mega Star Chiranjeevi's film 'GodFather' is massive. After taking over the US and South box office markets, the movie breaks the North India film markets and rakes in 2.25 crores in North India which makes it one of the top 5 pan India film openers of the year. The film has earned 38 crores worldwide. The phenomenal mass appeal of Chiranjeevi and Salman Khan has surely done wonders and one can only see the film rising to the top in the coming days!
Chiranjeevi's transformation into an intense, engaging and passive-aggressive role is a delight to experience in 'GodFather'. His swag is intact though while his restraint and sincerity in his new look are fabulous. 
Chiranjeevi essaying the character of the all powerful Brahma is quite a discovery for the North Audiences as much as the South Audiences. The Mega Star playing 'Brahma' lends immense gravitas to the character and goes on to prove that when the moment arrives to depict the drama, Chiranjeevi is clearly a pro and the unanimous winner.
'GodFather' is a rare movie that does not include a romantic interest, but Chiranjeevi's magnetic presence and his 'swag' more than makes up for the usual elements. Nayanthara makes a brief appearance in the movie's first half but she has a terrific presence post-intermission and her casting adds weight to the film's appeal. 
At the box office, 'GodFather' is competing with 'The Ghost', which starred another Telugu superstar, Nagarjuna. It will be fascinating to watch how these two blockbusters perform in the long term at the box office.