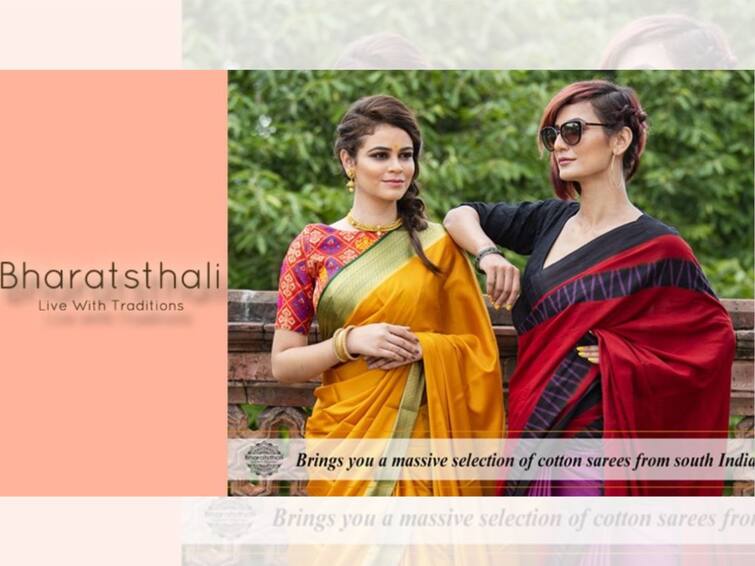 New Delhi (India), January 09: A woman looks like her most beautiful self in a saree.  You can be certain your beauty will be enhanced by this ethnic wear at all events, whether it be a wedding ceremony or a casual party. But how many people think about the sad plight of the handicraft workers who weave these sarees? It's here that India's best online site for ethnic sarees, Bharatsthali, enters the picture. Very well known as a pure silk sarees brand, BharatSthali, was primarily established by Pulkit Gogna to empower the weavers of India.
Handlooms in India are the essence of cultural richness, showcasing the creativity of the country's skilled weavers.  
Pulkit Gogna did not have any background in the textile and apparel sector when he quit his corporate job to set up "BharatSthali." But, he had a strong mission while starting the company: making beautiful Banarasi sarees and empowering weavers. 
Pulkit had completed his early education in Himachal Pradesh before pursuing a Master of Computers from Pune University. Pulkit even embarked on a corporate career, as most people do. However, he soon realized he wanted to do something meaningful in the handloom sector. And its handloom culture has been widely adopted by various north Indian cities also, especially Dehradun, Chandigarh and Varanasi.
With the industrial revolution, the power loom rapidly overtook the handloom sector. The way people viewed handlooms changed with time, and many weavers started facing financial trouble. Looking at the plight of these artisans, Pulkit recognised the urgency of preserving India's handloom culture and its weavers. 
That is how BharatSthali was born, as Pulkit and his wife Sumati Gogna entered the handloom sector with the company to create an impact for these weavers. The couple started the company with a team of just 2 weavers. But, BharatSthali has grown significantly and works directly with more than 5000 weavers.
When Pulkit started the company, he was very well aware of the changing taste of today's customers. Hence, he took a few steps to fulfil the demands of his customers. One of those steps was training the weavers about the change in style, colour combination, pattern, and design over some time. This was one of Pulkit's many strategies to make BharatSthalione of the well-known brands among ethnic wear lovers.
Bharatsthali is today a leader in the handloom sector, but it has not left the hands of its primary workers, the weavers. The company's strong support for them could be seen during the Covid-19 lockdowns when the looms became still. During that difficult period, Bharatsthali announced a "handloom challenge" to help the poor weavers. The initiative assisted them in many areas of cloth to block printing by weavers without modern machinery. The goal was to foster self-dependence in the helpless weavers. 
With increased competition from a fake market of a replica of a Handloom saree, it is always difficult to distinguish, and only someone with strong expertise and an eye can figure it out. Bharatsthali silk sarees bear the Silk Mark India badge, the gold standard for natural and original silk. A crucial quality assurance checkpoint comes in handy when preserving a legacy Banarasi or Kanjivaramsaree.
BharatSthali is well-known for its collection of silk sarees from various parts of India. It also sells pure cotton sarees, handloom ikats, Maheshwari, and linen, among other things. In the last three years, the business has progressed in the face of several obstacles, and it continues to go ahead every day, setting a standard in the Handloom sector. During these three years, the business has grown to 10 crores in revenue and comfortably serves thousands of clients monthly through retail and online sales.
Even today, after achieving so much success, Bharatsthali gives priority to its customers and continues to support the village artisans of India.
Connect with BharatSthali for Banarasi Sarees: 
https://www.bharatsthali.com/collections/banarasi-saree 
Connect with BharatSthali (Dehradun): 
https://www.bharatsthali.com/collections/saree-shopping-dehradun
This is a featured article. ABP Network Pvt. Ltd. and/or ABP Live do not endorse/subscribe to its contents and/or views expressed herein. Reader discretion is advised.