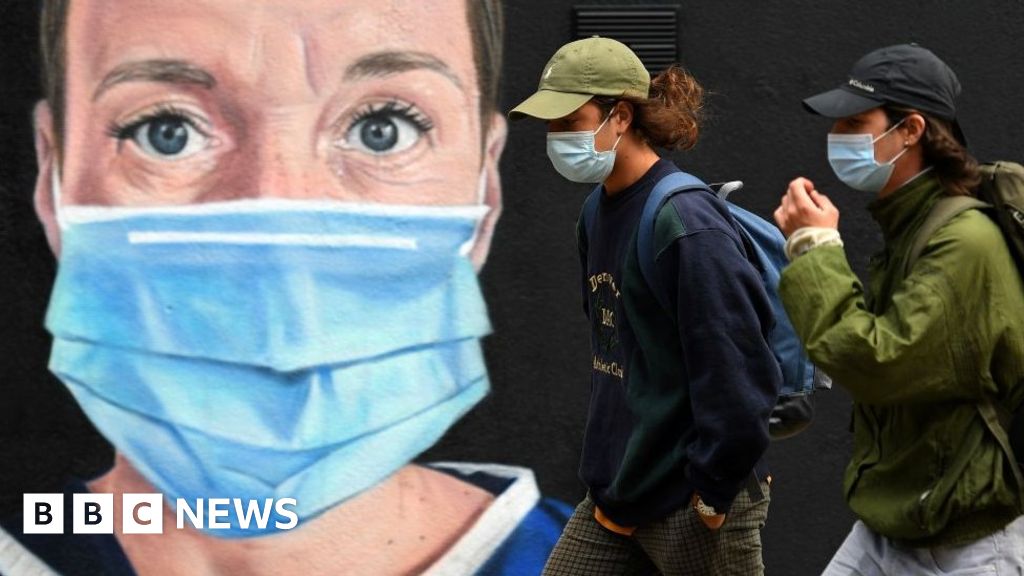 There have been more than 311,000 confirmed cases of coronavirus so far in the UK and more than 46,000 people have died, government figures show. However, these numbers only include people tested, and the actual death toll is higher.
Here we a take a look at some of the key figures of the pandemic in the UK – estimates of the death toll and number of cases. You can also find out more about cases in your area using our search tool below.
Find out how the pandemic has affected your area and how it compares with the national average – figures last updated on 8 August:
If you can't see the look-up click here.
Rise in new cases amid concern over hotspots
Daily confirmed cases are starting to edge up again after they fell significantly from their April peak as a result of lockdown restrictions imposed a month earlier.
Prime Minister Boris Johnson has said the government now has to "squeeze that brake pedal" and has postponed further easing of measures across England.
A further 816 cases were confirmed across the UK on Monday.
However, these daily confirmed case numbers released by the Department of Health and Social Care mask the fact that the number of tests being carried out is also increasing – and these tests are targeted at areas where infection rates are highest.
As BBC health correspondent Nick Triggle points out, if you are testing more, you are likely to find more cases.
And if you look at the percentage of tests coming back positive, the rise in cases becomes marginal, once daily fluctuations are taken into account, he says.
Separate data released on Friday from the Office of National Statistics (ONS), which surveys a sample of households in England for current infection – not including care homes or hospitals – also suggests the rise in cases may be levelling off.
However, the UK does currently have a number of local "hotspots" of cases of the virus, which was first confirmed in the UK in January.
On Friday, Preston in Lancashire was added to the list of places where lockdown measures have been re-introduced.
Clusters of cases have already been reported in the north of England, and millions of people in Greater Manchester, East Lancashire and parts of West Yorkshire have been banned from meeting separate households in private homes or gardens.
Pools, indoor gyms and other leisure facilities remain closed in Leicester.
In Scotland, First Minister Nicola Sturgeon announced new measures in Aberdeen last Wednesday, following an outbreak of 54 confirmed cases. People are being told not to visit the city, and those living there face travel restrictions.
Public Health England produces a coronavirus watchlist of areas, based on an assessment of incidence rates, and other indicators such as trends in testing, healthcare activity and deaths.
Along with the UK, several countries across Europe have reported a recent rise in cases. Spain has seen a particularly sharp increase.
Decline in daily deaths has slowed
While the number of new confirmed cases of coronavirus is rising again, government-announced deaths have continued to fall since a peak in mid-April, though the downward trend has slowed recently.
On Monday, 21 deaths in England were reported. However, the overall total actually fell slightly to 46,526, as 69 people who had previously been included were found not have tested positive for coronavirus before their death.
There were no coronavirus-related deaths reported in Wales, Scotland or Northern Ireland.
The latest announced deaths are published on the government's coronavirus dashboard – although a review is taking place into the way deaths from coronavirus are counted in England.
Public Health England have confirmed that reported deaths may have included people who tested positive months before they died. Other UK nations include only those who died within 28 days of testing positive for coronavirus.
The majority of the UK's deaths have been in England, with nearly 42,000 so far.
Overall death toll could be more than 60,000
When looking at the overall death toll from coronavirus, official figures count such deaths in three different ways.
Public Health England counts the deaths of people who have tested positive for coronavirus, providing the government with a figure every 24 hours.
But the ONS publishes weekly updates using two other measures.
The first includes all deaths where coronavirus was mentioned on the death certificate, even if the person had not been tested for the virus. The latest figures using this measure suggest there had been more than 56,000 deaths by 31 July.
The ONS also looks at all UK deaths over and above the number usually expected for the time of year – known as excess deaths. The latest figures for this measure show the death toll was just under 64,000 by 31 July.
In recent weeks, figures used in this third measure have actually been falling.
This is because the number of deaths from all causes registered in a single week – including coronavirus – has now stayed below the five-year average for seven weeks in a row.
Of the deaths registered in England and Wales the week to 31 July, 193 involved coronavirus, or just 2.2% of the total of 8,946.
Figures released by the ONS at the end of July show that England had the highest levels of excess deaths in Europe between the end of February and the middle of June.
Some areas of Spain and Italy were harder hit than UK cities. But ONS analysis shows the epidemic in the UK was more widespread than in other countries. Scotland saw the third highest death rate in Europe – behind England and Spain. Wales was in fifth place and Northern Ireland in eighth.
The government has argued it is too soon to make definitive international comparisons but, as the impact of the first wave becomes clear in many countries, analysis is beginning to suggest the UK has been the hardest hit of the leading G7 nations.
What is the R number in the UK?
The "R number" is the average number of people an infected person will pass the disease on to.
If R is below one, then the number of people contracting the disease will fall; if it is above one, the number will grow.
The current estimate by the Scientific Advisory Group for Emergencies, known as Sage, for the R number across the whole of the UK is between 0.8 and 1.0 as of 7 August.
The estimate for England is between 0.8 and 1.0, while for Scotland it is between 0.6 and 1.0. The estimate for Wales 0.7-0.9.
In Northern Ireland, it is between 0.8 and 1.8, which means it is "highly likely to be over 1", according to the department of health.
While the government has said in the past that the R number is one of the most important factors in deciding when lockdown measures can be eased, it now says these estimates do not fully represent current infection levels.
Sage says it is no longer confident R is below 1 in England. It says models using testing data, rather than epidemiological data such as hospital admissions, to predict transmission rates are suggesting higher values for R and these are likely to be reflected in the coming weeks.