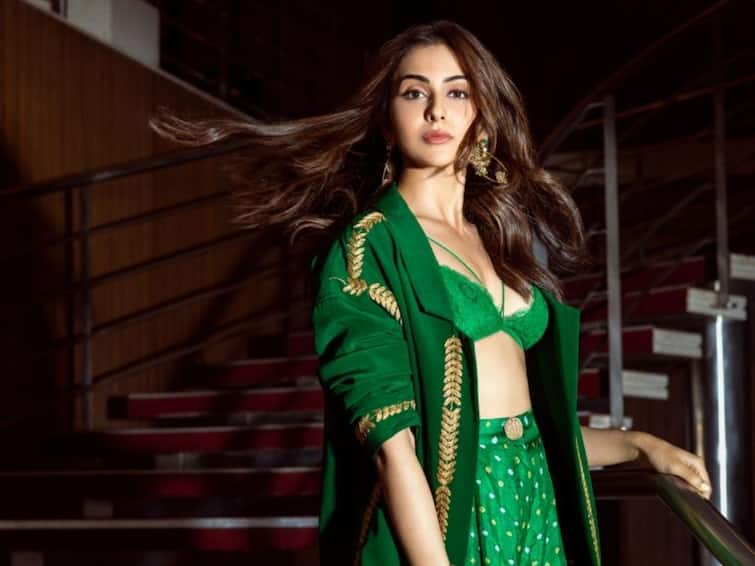 New Delhi: Rakul Preet Singh has always won the hearts of the audience with her charm in her films. Recently the trailer of her upcoming romantic comedy 'Chhatriwali' has released and she truly left everyone impressed by bringing a bold and mindful topic to the screen. While the actress will be coming up with a less-spoken topic about sex education in 'Chhatriwali', it has certainly been a journey and a thought process of the actress behind choosing the film. 
During the trailer launch event, Rakul was seen speaking about why she choose this topic. She said, "I think for me it's not about the subject being bold, I think the entire conversation is that it's not bold it is as normal as it can be and I am a believer that if we talk about key health, mental health, emotional health then why not about sexual health. You know 'It's not an option it is compulsory hai'. I truly believe this is the only thing we don't have an option in life so why education related to it should be an option and I think it's very important and it's a need of the hour."
She further added, "When I read the script I connected with it so much that I felt…you know sometimes you have certain beliefs but it comes to you in the form of the script it just re intrigues the fact that yes I think I should do something which will help people, obviously, entertainment being on the forefront and I connected with it so much that nobody has ever spoken about the effects of it on women's health like it's talking about abortion, miscarriages but can anyone of us tell how many abortions can a women's body take and what are the ill effects and how does it traumatise women you know mentally, emotionally, physically and these are the conversations we need to have for a society to hope and to move forward, Right?"
"So, yeah I just felt that this was something that I really connected with and hence the film. Whether it's bold or not but the thought is it should not be considered as a bold topic, the actress concluded"
Rakul's 'Chhatriwali' is all set to release on 20th January. Ahead of this, she has other unannounced projects in her future lineups.