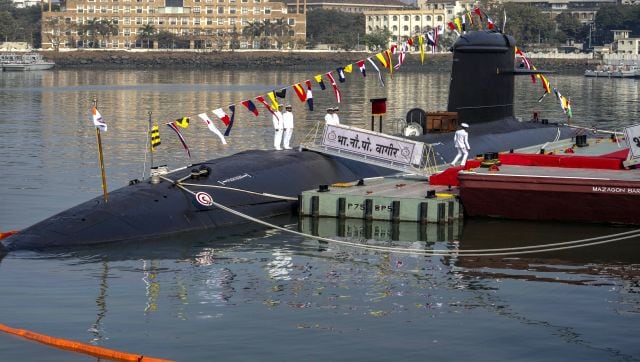 The Indian Navy is on a high after it commissioned its fifth Kalvari-class submarine, INS Vagir, today from Mumbai's Mazgaon docks. In its commissioning, the Navy said that the submarine will boost its capability to "further India's maritime interests in deterring the enemy, and conducting Intelligence, Surveillance and Reconnaissance (ISR) to provide decisive blow in the times of crisis".
The INS Vagir, also known as the Sand Shark, has the honour of having the lowest build time — it has been commissioned into service in a span of 24 months, with Indian Navy chief Admiral R Hari Kumar saying that it was a testament to the expertise of India's shipyards to construct complex and complicated platforms.
Over the past few years, a lot of progress has been made in India's defence arena, with a special focus on 'Aatmanirbhar Bharat' — the indigenisation of the military.
Keeping the Centre's self-reliance drive in mind, the Indian Navy has also made great strides, commissioning big-ticket projects.
We take a closer look at how the Indian Navy has changed over the years and the challenges that remain in keeping India's waters safe from its enemies.
India's naval strength
With a coastal line running across 7,516 kilometres, the Indian Navy plays a very important role in the country's overall security. Over the past 50 years, the Indian Navy has been growing steadily, with the past five years seeing a rise in commissioning of ships as well as bigger and better hardware for the vessels.
As of March 2022, the Indian Navy's current strength is 137 vessels, with only one aircraft carrier in service.
And keeping in mind China's growing presence in the Indian Ocean region, the Indian Navy hopes to increase its fleet size to 170 by 2027. However, this is no easy task as on an average for every two-three ships inducted, one from the existing lot retires due to age. As officials have stated in the past, navies have to be maintained and they cannot be created overnight.
In their attempts to increase the Navy's strength, the Narendra Modi-led government has also changed its defence budget allocations. For the previous year, Finance Minister Nirmala Sitharaman had announced a defence budget of Rs 5,25,166 crore.
Of this, a total of Rs 1,52,369 crore had been set aside for capital expenditure that includes purchasing new arms, fighter jets, warships and other military equipment.
A closer look at the break-up of the defence budget showed that the Centre allocated a big chunk of money to the Indian Navy — Rs 47,590 crore — while the Army was given Rs 32,015 and the Air Force was allocated a total of Rs 55,586 crore.
This allocation to the Navy was higher than the previous year, a 43 per cent rise in its modernisation funds, with many defence experts attributing the rise to the China-challenge in the Indian Ocean.
Big inductions into the Navy
With a bigger budget and the realisation of its importance, the Navy has taken great strides in the past few years — and there have been very notable inductions.
INS Vikrant: Of the many vessels and hardware that the naval force has seen in the past years, none is more monumental than the commissioning of India's first indigenously-built aircraft carrier — INS Vikrant — in September last year. The 44,000-tonne indigenous aircraft carrier stretching 262 metres in length, exceeding that of two football fields and is 62 metre wide, was a significant moment for the defence sector of the nation.
As Prime Minister Narendra Modi said at the commissioning, "Today, India has joined those countries in the world, which manufacture such a huge aircraft carrier with indigenous technology. Today INS Vikrant has filled the country with a new confidence." He added, "INS Vikrant is not a mere war machine but proof of India's skill and talent. It is special, different."
Also read: How does INS Vikrant compare with aircraft carriers from China and the US?
The construction of INS Vikrant began at the state-owned Cochin Shipyard in Kerala's Kochi in 2009 and the cost came up to Rs 23,000 crore. With the construction of INS Vikrant, India also joined the elite club of countries that can build an aircraft carrier.
Kalvari-class submarines: Over the past few years, India's submarine strength has increased with the commissioning of INS Vagir (today, 23 January), INS Kalvari, INS Khanderi in 2017 and 2019 respectively. INS Vela and INS Karanj are currently undergoing sea trials. There's also INS Vagsheer, which was launched in 2022 and is expected to be inducted next year.
These submarines are based on the Scorpene class of submarines designed and developed by French defence major Naval Group formerly DCNS and the Spanish state-owned entity Navantia. They have diesel electric transmission systems and are primarily attack submarines or 'hunter-killer' types which means they are designed to target and sink adversary naval vessels. These subs can stay submerged for up to 50 days without coming to the surface. Their weapons systems can launch torpedoes and anti-ship missiles.
All six of these submarines come under India's P-75 project, which was initially ideated in June 1999. Under this plan, India and France signed a multi-billion contract for building six Scorpene class submarines. The executing company on the Indian side was Mazgaon Docks Ltd, and on the French side, it was DCNS, which is now called Naval Group.
INS Mormugao: In December last year, the country's maritime capabilities received a further push with INS Mormugao joining the Indian Navy's fleet. Built under the Indian Navy Project 15B, or P15B, this vessel was the second of the four Visakhapatnam' class destroyers.
Designed by the Warship Design Bureau, the Indian Navy's in-house organisation, and built by Mazagon Dock Shipbuilders, the INS Mormugao is regarded as "one of the most potent warships to have been constructed in the country".
Its firepower comprises BrahMos surface-to-surface missiles (SSM), Barak-8 surface-to-air (SAM) missiles for a long range of shore and sea-based targets and a 76mm super rapid gun mount. The ship is armed with RBU-6000 anti-submarine rocket launchers and 533mm torpedo launchers. It is also equipped to carry and operate multi-role helicopters.
Also read: How the Delhi class destroyer catalysed transformation of Indian Navy into a blue water force
The two other destroyers will be commissioned, according to officials between 2023 and 2025.
Launch of stealth frigates: The year 2022 also saw the launch of its homemade stealth frigates —INS Taragiri and INS Udaygiri. Built under the Rs 50,000-crore Project 17A, these vessels are expected to be have state-of-the-art weapons, sensors, an advanced action information system, an integrated platform management system, world-class modular living spaces, a sophisticated power distribution system and a host of other advanced features. It will be fitted with a supersonic surface-to-surface missile system.
The ship's air defence capability, designed to counter enemy aircraft and anti-ship cruise missiles, will revolve around the vertical-launch and long-range surface-to-air missile systems. Two 30 mm rapid-fire guns will provide the ship with close-in defence capability. Torpedo launchers and rocket launchers will add punch to the ship's anti-submarine capabilities, said officials.
Challenges ahead
TN Ninan rightly wrote for the Business Standard that there is no previous period when the Navy acquired so many major, front-line ships and submarines in such short order.
However, it still isn't enough when compared to China and its ever-increasing fleet. As naval chief Admiral R Hari Kumar was quoted as saying in December, "We are aware of the Chinese build-up. They have built 138 warships in the last 10 years. The scale of the Chinese naval build-up outscores the Indian one by almost four times at a time when it is bringing the naval contest to India's maritime backyard." However, the chief noted that it's not just about numbers and the Indian Navy is a well-balanced force.
Also read: Why India needs to reorient its naval strategy post Vikrant
India needs super overhauling of its current capacity — the Peoples Liberation Army Navy (PLAN) outnumbers India in serving personnel, its submarine fleet is three times that of India. Moreover, while the PLAN has six active second generation nuclear powered submarines, India only has one that is INS Arihant. China also has more corvettes than the Indian Navy.
Saloni Salil, an independent geopolitics and security analyst, also noted that China has been embracing multiple strategies including building bases in Djibouti and ports in Pakistan, Sri Lanka, and Myanmar in order to counter India's strength in the Indian Ocean.
The Indian Navy has to redress this power imbalance even as it grapples with inadequate budgets and delays in placing orders. These issues need the undivided attention of the government even as we celebrate the commissioning of major warships.
With inputs from agencies
Read all the Latest News, Trending News, Cricket News, Bollywood News,
India News and Entertainment News here. Follow us on Facebook, Twitter and Instagram.