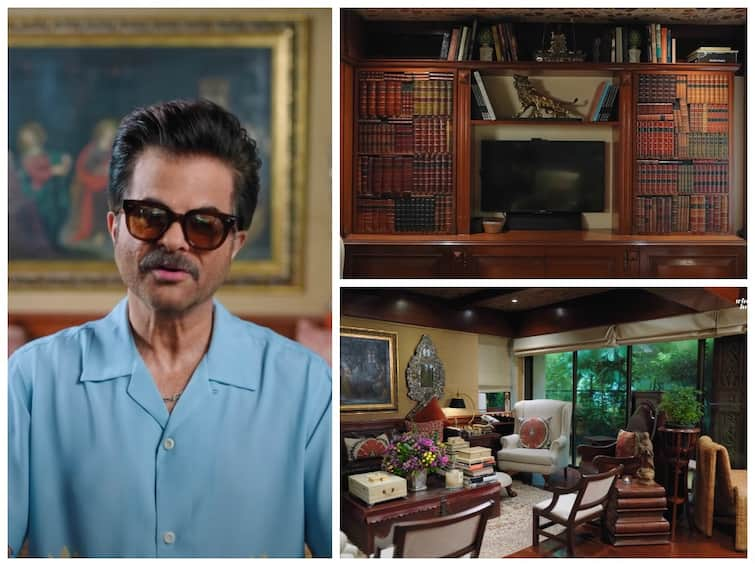 Anil Kapoor is the latest celebrity to give fans a tour of his house. Anil lives with his wife Sunita Kapoor in a four-storey mansion with maximalist decor and the most beautiful terrace garden you've ever seen.
Anil shows the camera his den, his gym, the green terrace, and more in the most recent episode of Asian Paints Where The Heart Is. He starts off by saying that the house is the result of his labour, sweat, and blood.
"My blood, sweat, and hard work are in every brick, stone, and object. As we catch a brief glimpse of his den, he declares that there is no trick, fate, or luck involved."
Anil showed the camera crew around his "den," the final apartment he brought into the building and customised to his tastes, which has wooden ceilings, dark wood furniture, and ornate mirrors on the walls. Views of the lush outside greenery are provided by the room's large windows on one side.
A brown leather Chesterfield sofa, a highback white fabric chair, and a centre table piled high with books, trunks, and other relics are all present inside. Anil enjoys working in the church's wooden pulpit, where he completes his script readings. With painted scenes and Catholic imagery, the artwork also has a European feel.
He then goes to his home gym, which is equipped with all the necessary tools. Anil spends a lot of time in the room, which is not surprising given his recent enthusiasm for working out and getting in shape.
Then he leads us to his lovely terrace garden, which has a sitting area, a bar area, and numerous ceramic vases arranged in the middle of the sitting area. Anil says that his wife Sunita and her mother have a great love for plants and trees, which is evident in this area of the home, particularly in the terrace garden.
Anil last appeared with Varun Dhawan and Kiara Advani in Jugjugg Jeeyo. He has two films coming out soon: Fighter and Animal.