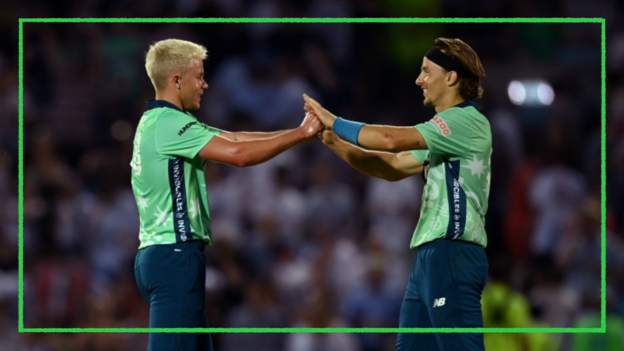 Oval Invincibles 145-8 (100 balls):
Billings 49, T Curran 29; Klaassen 3-23
Manchester Originals 136-7 (100 balls):
Brathwaite 37, Sowter 2-18
Invincibles win by nine runs
Scorecard
Oval Invincibles edged out Manchester Originals as the men's Hundred kicked off in entertaining fashion at The Oval.
After a thrilling opening women's game on Wednesday, the men's opener also went the distance as Manchester chased 146 to win.
After a poor start Carlos Brathwaite hit 37 from 29 balls but, with 19 needed from the last five balls, the West Indies international was caught.
It was a fine Invincibles bowling performance which secured the win after captain Sam Billings had earlier hit 49 to lead a recovery from 32-3 to 145-8 from their 100 balls.
Here are BBC Sport's takeaways from the Invincibles win.
Another entertaining night at The Oval
This match didn't quite match the drama of the women's opener but it was still another entertaining night at The Oval.
Manchester started badly in their chase, England's Phil Salt and Jos Buttler making just four and eight respectively. After 34 balls they were 48-4.
But with Brathwaite at the crease almost anything is possible – as England fans know after he downed Ben Stokes in stunning fashion in the 2016 Twenty20 World Cup final.
Needing 47 runs from the last 20 balls he hit England's Tom Curran for six and the crowd of 18,126 – another positive attendance at the start of cricket's newest competition – were nervous.
Ultimately, though, it was the other Curran, Sam – Tom's younger brother – who had Brathwaite caught at long-on, leaving the West Indies star to slump from the field dejected.
More to follow