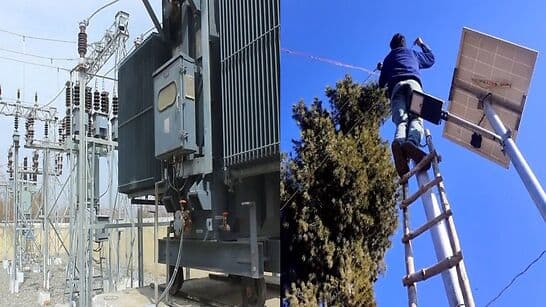 J&K: In a hamlet of south Kashmir, people of a far-flung Village in Anantnag received electricity for the first time since the country got independence. This illumination is not for their houses only, but it will change their lives. People residing in this Tathan Gujjar Basti of Anantnag were overjoyed when the electric bulb got light. The level of excitement was so high that even power development staff danced in front of the newly placed transformer.

People were overjoyed as for the first time they saw light bulbs illuminate their houses. It's an effort to make the lives of villagers easier as most of India lives in villages and if villages get developed country will be developed.

Fazul Khan, a resident of Tathan Top village of south Kashmir said, " I am very thankful to the Government as well as the electricity department for alleviating our troubles, we have seen electricity for the first time since independence, now we can have bit ease in our daily lives" he added, "Previous generations before us in our village were not able to see electricity we are thankful to the department for providing us with electricity our children cannot study well, we see a bright future." He added.
The government is working nonstop to bring electricity in several villages of Jammu and Kashmir. It's not the first village in Kashmir that has received electricty; according to the data, roughly 18 villages in Jammu and Kashmir have received electricity for the first time since India gained independence, and many more are on the list, a PDD official said.

Nazir Ahmed a Power Development Department official said 'there was no electricity in these remote areas of Kashmir since independence and we have started to do electrification every such village on fast-track in the central special scheme of Har Ghar Bijli Yojna.'

Under "PMDP" Pradhan Mantri developmental program "Har Ghar Bijli Yojana's target is to illuminate every village house. The scheme was launched by the Prime Minister in 2019.