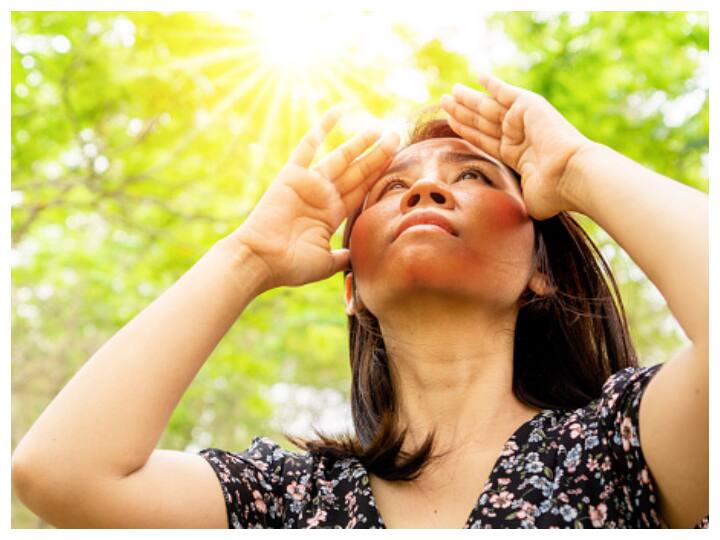 New Delhi: A 25-year-old woman who fell asleep in the sun for 30 minutes was left horrified after her forehead skin started looking like plastic. 
Sirin Murad, a beautician, was on vacation in Bulgaria when she fell asleep out in the 21-degree sun without using sunscreen. She took a 30-minute snooze by the pool and woke up with a somewhat irritated, red face, but she didn't think much of it and continued to unwind. The Independent reported that the next day, her skin tightened to the point where it appeared plastic when she wrinkled her brows.
The 25-year-old British woman chose not to visit the doctor after talking with her family about the burn because she didn't think it would become much worse. But as days went by, Sirens' entire face began peeling, leaving her covered in varied patches of tanned and pink skin.
Ms Murad told Wales Online that initially, "It really didn't feel like anything; it simply felt a little sore when I placed pressure on it."
"It really hurt the next day but I actually got some relief when it started peeling. It didn't hurt and I felt much better. Weirdly, my skin is great now! It even feels better than before, almost like it's renewed," she added. 
Ms. Murad is now concerned about raising awareness of the value of sunscreen as a result of her unpleasant experience. No matter how certain you are in your ability to stay safe or that your skin won't burn, she advised, according to the publication.
Since the incident, which occurred last month, Ms. Murad's complexion has cleared up, leaving only a few spots of discoloration on her cheeks. Her situation could have been worse, though, as melanoma, the most dangerous form of skin cancer, is considerably increased by severe sunburns.
What Are Sunburns? How Dangerous Can They Be? 
According to the Better Health Channel, the official website of the Victoria State Government, "Sunburn is the skin's response to excessive exposure to ultraviolet (UV) radiation from the sun. Infrared radiation (sunlight's light and heat) can be seen and felt but UV radiation cannot be seen or felt. It can damage skin even on cool, cloudy days."
Radiation burns to the skin include sunburn. After being burned, skin can turn red within 2 to 6 hours, and symptoms of sunburn can start to manifest in as little as 11 minutes. It will continue to worsen for the following 24 to 72 hours, and healing could take days or weeks, depending on the degree of the sunburn. 
As you are exposed to more UV radiation, your sunburn will get worse. While mild sunburns can be treated at home, blistering, severe sunburns need immediate medical intervention.
Repeated sunburns have long-term impacts that include early ageing and a higher chance of skin cancer, including melanoma (the most dangerous type of skin cancer). Cells' DNA may sustain damage, and if the body doesn't repair it frequently over time, cancerous cells may emerge. This is why prevention is very important.
The case of Sirin Murad is an example of how dangerous sunburns can be, hence, preventive measures are necessary in order to ensure safety from UV radiation which causes sunburns.