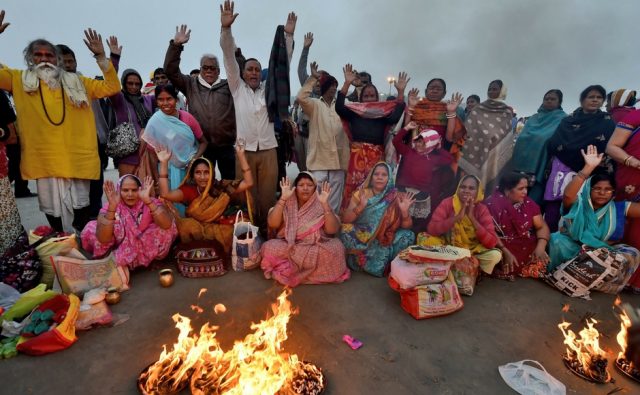 Lohri is celebrated across India every year in January. This festival symbolises the ripening of the winter crops and the beginning of a new harvesting season. The auspicious festival of Lohri is particularly celebrated by the people of Punjab and Haryana. Lohri is marked a day before Makar Sankranti, and falls on 14 January this year. Lohri is mainly a Sikh celebration, but the day of Lohri is decided in accordance with the Hindu calendar. The festival is closely linked to the Hindu festival of Makar Sankranti. Lohri is also called Lal Loi and Lohadi. People, especially farmers, pray for their crops and show gratitude for them during the festival.
Lohri Customs and Rituals
On the day of Lohri, people light bonfires with wood and cow dung cakes in open spaces or outside their homes. People offer sesame seeds, gajak, rewdi, jaggery, and peanuts to the bonfire and do parikrama (circumambulation) around it. Crops are also harvested and bhog is offered to the fire, which is prepared using the same. People do parikrama while singing traditional songs and dancing to the beats of dhol. It is believed that the offerings made to the fire take away all the negativities from one's life and bring prosperity and happiness.
Lohri History and Significance
There are several legends associated with the celebration of Lohri. One such legend is the tale of "Dulla Bhatti". Dulla Bhatti was a local hero of Punjab and he was a saviour of the people during the reign of the Mughal Emperor Akbar. He was called as the "Robin Hood" of Punjab as he would steal from the rich and give to the poor. He saved young girls from getting sold into slavery. He used to arrange the girls' marriages to the village boys and provide them with dowry from the stolen loot.
The festival of Lohri is very significant for Punjabis. Along with worshiping the new crop, people also show their gratitude to the Sun God (Surya) and Fire God (Agni). A special significance attached to Lohri is that the sun enters the Rashi (zodiac) of Makara (Capricorn) on this day, which in turn signifies a fresh start.
Read all the Latest News, Trending News, Cricket News, Bollywood News,
India News and Entertainment News here. Follow us on Facebook, Twitter and Instagram.