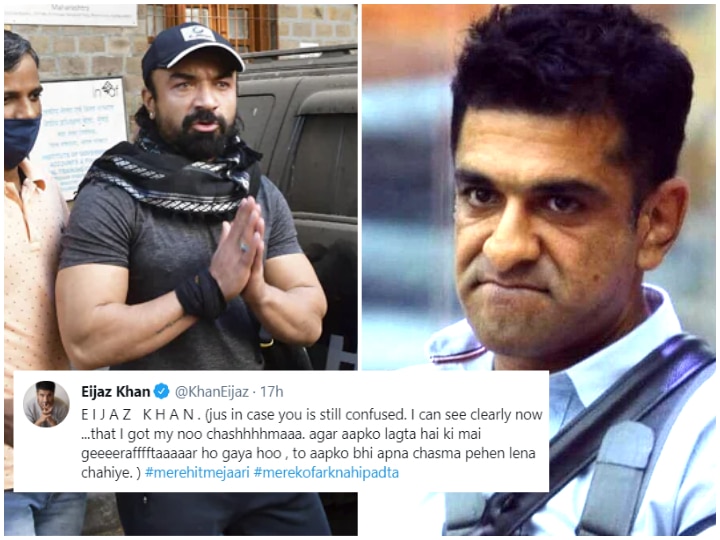 There's a popular saying in hindi kare koi, bhare koi (One commits the stealth and another hath the scorn) and popular TV actor Eijaz Khan experienced something similar recently. The Bigg Boss 14 contestant was confused with actor Ajaz Khan who got arrested by NCB on Wednesday in connection with drug case.
Soon after news of Ajaz Khan being arrested surfaced on internet some netizens got confused with the name and thought him to be Eijaz Khan. Co-incidentally both the actors are former Bigg Boss contestants, while Ajaz who got arrested on Wednesday was part of Bigg Boss 7, Eijaz was a part of the show's latest edition, Bigg Boss 14 which ended in February this year.   
To avoid more confusion, Eijaz took to his social media and clarified the same in a series of tweets. Wasn't me. … (I'm so fed up of this mixup), wrote Eijaz on Twitter.
He shared another tweet with a goofy pic where he can be seen wearing specs and wrote his name is full capital letters- E I J A Z K H A N, he then added: (jus in case you is still confused. I can see clearly now)
This is not the first time and fans often get confused between the two with their similar names and connection with Bigg Boss. When a Twitter user asked him to not be bothered, he wrote that it doesn't affect him but it's causing inconvenience to his dad. "#merekofarknahipadta but my dad gets hassled with relentless calls from family and friends (sic)," his tweet read.
On a related note, Ajaz Khan has been sent to 3-days custody a day after he was arrested by the Narcotics Control Bureau (NCB) on Wednesday.
The central agency NCB had said it found Alprazolam tablets at Khan's Residence in raids. The probe team conducted raids at Andheri and Lokhandwala areas along with Khan in connection with the case.
His name came to the limelight after the arrest of drug peddler Shadab Batata in the drugs case. Ajaz is allegedly accused of being part of the Batata gang.