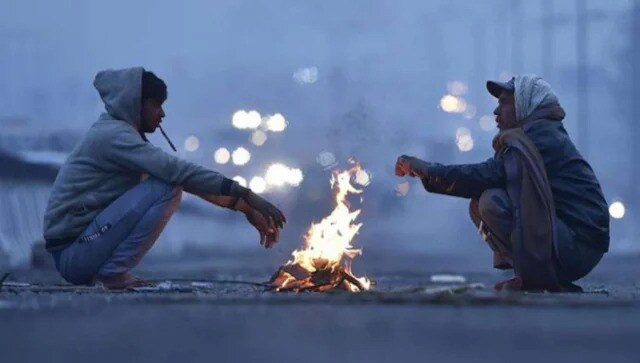 Cold wave and dense fog will continue in New Delhi and other parts of North India for the next 48 hours, the IMD said on Sunday.
"Tonight there will be a cold to severe cold wave over Delhi and the temperature will be around 3-4 degrees, some stations may record it as 2 degrees but from 10 January there will be no dense fog, no cold wave, maybe isolated fog will prevail but the cold wave will go," India Meteorological Department senior scientist RK Jenamani told ANI.
Talking of the record-breaking biting cold, prevailing in Delhi-NCR, the Met scientist said, "Safdarjung temperature recorded the lowest temperature at 1.9 degrees Celcius, which is the lowest of the season. A severe cold wave is still prevailing in most places of Delhi, and it is recording very low temperatures for the last four days in the area."
RK Jenamani said that the day temperature is also very low which is around 15-17 degrees Celsius in the national capital.
"Yesterday night, the dense fog also intensified in Delhi. At IGI airport severe fog remained from 2:30 am to 11:30 am, making it the longest fog of the season," he said.
Delhi private schools extend winter vacation till 15 Jan
Meanwhile, winter vacation in Delhi's private schools has been extended till 15 January in the wake of a cold wave in the national capital, a circular from the Delhi government's Directorate of Education said. Private schools were slated to reopen after winter break on 9 January.
Taking note of other parts of India, Jenamani said, "the temperature marginally improved in Rajasthan, Punjab by 1-2 degrees Celsius but cold wave still remains."
However, the IMD scientist underlined that Rajasthan's Churu recorded sub-zero temperature and settled at minus 0.5 degrees Celsius.
"North Madhya Pradesh's Nowgong recorded 1 degree Celsius and is under the grip of severe cold wave. Uttar Pradesh witnessed severe cold waves but only in isolated places," Jenamani said.
Notably, as per the forecast all the cold conditions prevailing will abate from 10 January night.
Red alert for Punjab, Haryana, UP
"The new Western Disturbances (WD), will be coming from 10 January night. All these conditions, dense fog, cold wave, and cold days, will abate from 10 January night," the forecast expert said, adding that in response to the prevailing conditions the Met Office has issued red and orange alerts for the next 48 hours in several parts of the country.
"We have issued a red alert in Punjab, Haryana, Chandigarh, Delhi, Uttar Pradesh and an Orange alert in Rajasthan, Bihar as these areas will be witnessing dense to very dense fog. He adds that people driving cars, should follow the speed limit and all the safety conditions should be followed," he said.
With inputs from agencies
Read all the Latest News, Trending News, Cricket News, Bollywood News,
India News and Entertainment News here. Follow us on Facebook, Twitter and Instagram.