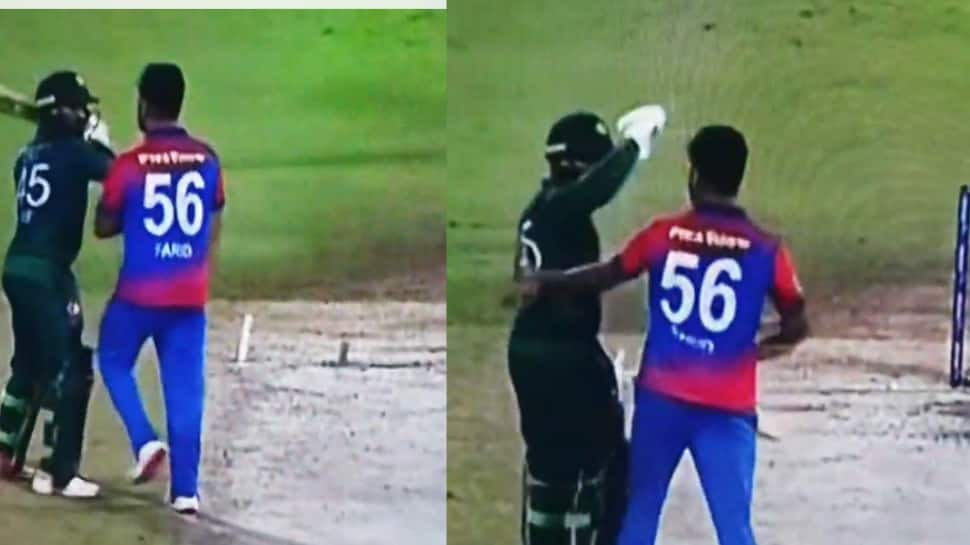 Pakistan's power-hitter Asif Ali almost hit Afghanistan pacer Fareed Ahmad with his bat in the penultimate over of the Super 4 match of Asia Cup 2022 in Sharjah on Wednesday (September 7). On the fifth ball of the 19th over in the chase, Asif hit one behind the stumps at fine leg and was caught out. Fareed then celebrated in an animated way right in front of Asif, who in return pushed the bowler back and when countered again by the bowler, Asif almost hit him with the bat before the other Afghanistan fielders came and took Asif away. 

Watch here: 

_____ __ ____ ___ _____ __ ___ #Pakistani team … ____ ______ ________ ___ __ ____ ____ ____

____ ___ ___ __, __ ___ __ __ ____ __ ___ __…. #PAKvAFG #asifali #PakvsAfg #Pakistan #aisacup2022 #Afganistan pic.twitter.com/z2n4hJFMGu
— Pallavi Kumari (@pallavi0305) September 7, 2022
In the last over, Naseem Shah smashed two back to back sixes to seal the game for Pakistan and take Men in Green to the final of the multi-nation tournament. Naseem as there when Asif and Fareed fought with each other on the middle of the pitch. The stumps microphone could not record anything but it seems the exchange between the two was ugly. Asif was rattled by words thrown at him and Naseem too may have heard it.
In the next over, Naseem smashed those sixes and showed his emotions to the world. Pakistan fans feel that Naseem took 'revenge' for Asif Ali as he was 'disrespected'. We still do not know what transpired in the middle. It is too early to comment on the incident but one thing is for sure that a line was crossed over there and some punishment might be on the way as there is no scope for such bahviour on the field and ICC takes these instances very seriously.

For now, Pakistan can relish in the joy of qualifying for the final. They will meet Sri Lanka on September 11 in the summit clash. India and Afghanistan have been knocked out of the tournament.