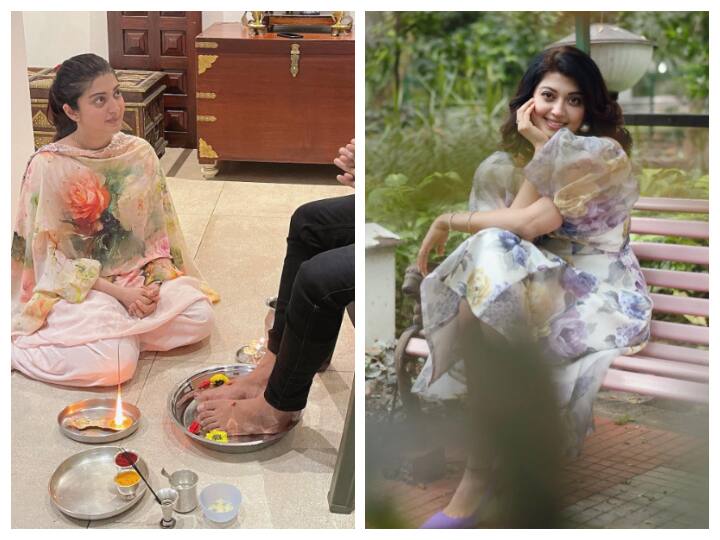 New Delhi: Actor Pranitha Subhash, who has worked in Tamil and Kannada films, was recently trolled when she shared a picture where she was performing a ritual sitting at her husband's feet. 
Pranitha was performing Bheemana Amavasya, a Hindu ritual for the long life of male members of a family. The ritual and the photo didn't go down well with a few netizens and they called the ritual and the photo sexist. On the other hand, many were on her side and appreciated the actress for upholding customs. 
Pranitha has now reacted to the trolling and criticism she received in a conversation with ETimes. "Well, everything in life has two sides. But in this case, 90 per cent of the people had a good word to say. The rest, I ignore. Just because I'm an actor and the field is known for its glamour, does not mean that I cannot follow a ritual that I have grown up watching and completely believe in. All my cousins, neighbours and friends have also done it. I did the puja last year too when I was newly married, but hadn't shared the picture then," the actress was quoted as saying by ETimes. 
She also added that she has always been a traditional girl and she likes it that way. "I've always been a traditional girl at heart and love anything that has do with values, rituals and family at its core. One can be forward thinking and modern, but that does not mean one forgets one's roots," she told ETimes. 
Pranitha has acted in many Kannada, Tamil, and Telugu films. She marked her Bollywood debut with 'Hungama 2' and was last seen in Ajay Devgn's 'Bhuj: The Pride of India'.