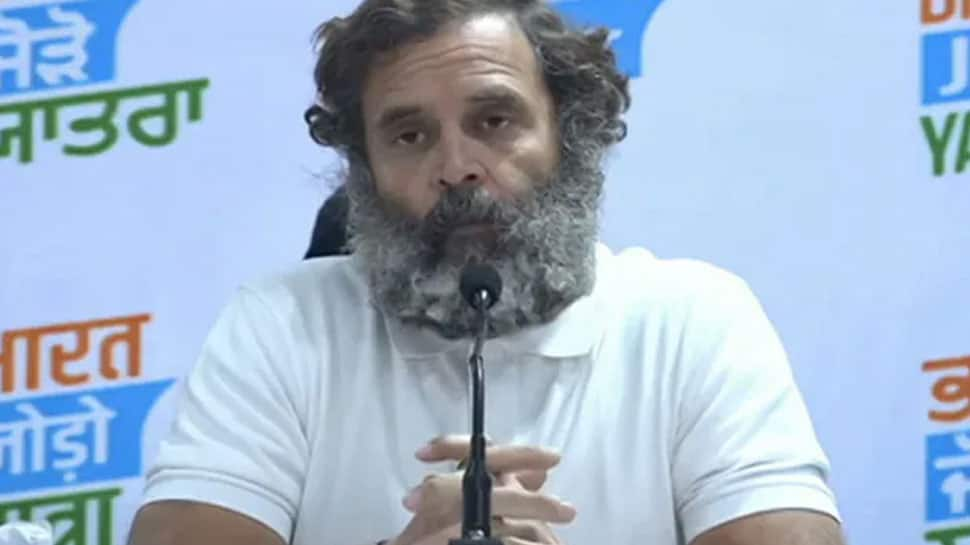 NEW DELHI: Congress MP Rahul Gandhi on Tuesday disapproved his party colleague Digvijaya Singh's remarks that "there are no proof surgical strikes" conducted by the Centre in 2019 and reiterated that the armed forces do their job exceptionally well. The Congress leader also made it clear that the remarks made by Digvijaya Singh are his personal remarks and not the party's position on the issue

Addressing a press briefing, the Congress MP from Wayanad said, "We don't appreciate Digvijaya Singh's personal views. His views are outlying views. We are absolutely clear that the Armed Forces do their job exceptionally well and they do not need to provide proof of that."

#WATCH | We don't appreciate Digvijaya Singh's personal views. His views are outlying views. We are absolutely clear that the Armed Forces do their job exceptionally well and they do not need to provide proof of that: Congress MP Rahul Gandhi pic.twitter.com/O67iRg8aNk
— ANI (@ANI) January 24, 2023
Earlier today, Singh, at the centre of a political storm over his critical remarks, said that he has "deepest regards for the country's defence forces." Trying to put an end to the row after questioning the authenticity of the 2019 surgical strikes, the veteran Congress politician said, "I have got the greatest regard for the Defence forces" as his party leaders marched forward along with other padayatris of the Rahul Gandhi-led Bharat Jodo Yatra in Jammu and Kashmir.

Facing criticism from several quarters, Congress too issued a statement saying, "all that needed to be said has already been done", and the questions should now be directed at the Prime Minister. Congress spokesperson Jairam Ramesh said this while lashing out at the media on Tuesday – a day after Singh stirred up the hornet`s nest by saying that "there is no proof of 2019 Surgical Strikes."

Singh's party has distanced itself from him as Congress' in-charge of Communication, Jairam Ramesh told the media while walking for the Bharat Jodo Yatra in Jammu and Kashmir that the "views expressed by senior leader Digvijaya Singh are his own and do not reflect the position of Congress."
Ramesh also refrained from answering any further questions and said that "We have answered all the questions." "You go and ask the Prime Minister the questions," said Jairam Ramesh. "Congress party has said whatever it wanted to. I tweeted yesterday regarding the same. I do not want to say anything other than this," he said. 

Taking to Twitter, Ramesh claimed on Monday that even the Congress-led UPA government had carried out surgical strikes. "The views expressed by senior leader Digvijaya Singh are his own and do not reflect the position of Congress. Surgical strikes were carried out before 2014 by the UPA government. Congress has supported and will continue to support all military actions that are in the national interest," Ramesh tweeted.

His tweet and reactions came shortly after Singh said there is no proof of the 2019 surgical strike against Pakistan, while the Centre claims to have carried out the attack. "They (Centre) talk about surgical strikes and that they have killed so many of them but there is no proof," said Digvijaya Singh in his address in Jammu on Monday.

On February 14, 2019, a CRPF convoy was attacked by militants in Kashmir`s Pulwama, in which 44 Indian jawans lost their lives. Striking back, on February 26, 2019, Indian Air Force fighter jets targeted an advanced terror training camp of Jaish-e-Mohammed in Pakistan`s Balakot. 
The day after, Islamabad attempted to target Indian military installations but was thwarted by the IAF. Bharatiya Janata Party has alleged that the opposition party has been "blinded" by its "hate" for Prime Minister Narendra Modi and has "insulted" the armed forces while adding that such statements are made at the behest of the top leadership of Congress.

BJP national spokesperson Gaurav Bhatia said that it has become a "character" of the Congress party to make "irresponsible remarks". Union Minister Jyotiraditya Scindia listed out Digvijaya Singh`s alleged controversies and said that he has added "one more to his list of anti-national activities".