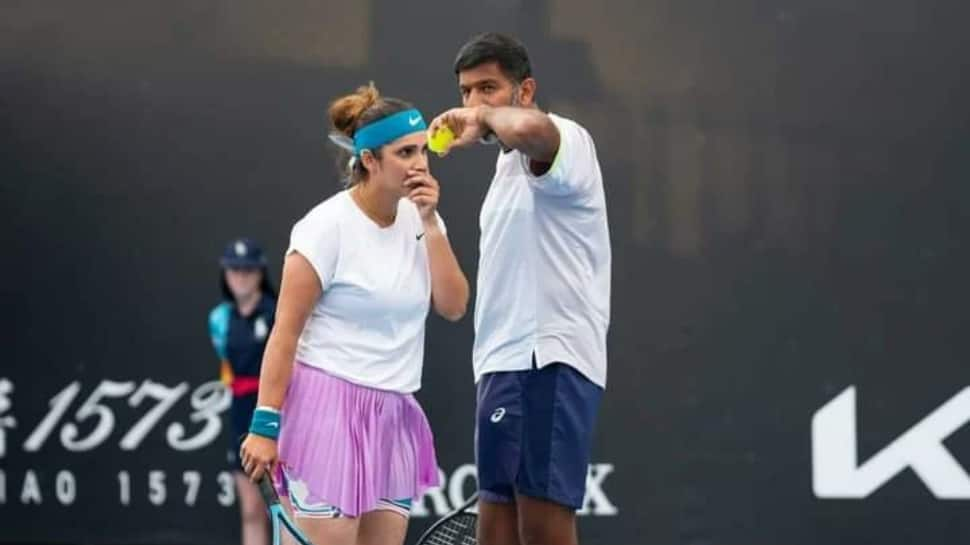 Indian tennis stars Sania Mirza and Rohan Bopanna entered the mixed doubles final of the Australian Open as they beat Neal Skupski and Desirae Krawczyk 7-6, 6-5, 10-6 in the semi-finals on Wednesday, January 26. Australian Open 2023 is Sania' last Grand Slam. She is retiring from professional tennis next month in Dubai. This is her last Grand Slam and she has a great chance of calling it quits with another Grand Slam title. 

Sania has won three women's doubles and as many mixed doubles titles in her career while Bopanna has won one mixed doubles title. Sania has announced that the WTA event in Dubai in February will be her swansong.

Also Read | From marrying Shoaib Malik to getting death threats for disrespecting Indian national flag – Top 5 controversies involving Sania Mirza – In Pics

"It was an amazing match, there was a lot of nerves. It's my last slam and it's so special to play with Rohan. He was my first mixed doubles partner when I was 14 and today I'm 36 and he is 42 and we are still playing, we have a solid relationship," Sania said after the match. Sania has announced that the WTA event in Dubai in February will be her swansong.
In a fitting farewell, @MirzaSania's last dance will take place on the grandest stage!

She and @rohanbopanna __ have qualified for the Mixed Doubles Final!@wwos _ @espn _ @eurosport _ @wowowtennis _ #AusOpen _ #AO2023 pic.twitter.com/qHGNOvWMoC— #AusOpen (@AustralianOpen) January 25, 2023
"We are excited to come back here and give ourselves another chance. We were playing the best mixed doubles pair on Tour and had to come up with the best," she said about the rival players from USA and England.

"I'm not a crier but I'm almost there right now, I feel the love for the last 18 years I have been coming here. It feels like home for me, I have a family here, I eat at home and I have so many Indians supporting me," said Sania, who won her first Grand Slam title at the Australian Open in 2009, winning the title with compatriot Mahesh Bhupathi.
She later won the women's doubles title at Melbourne Park in 2016 with Swiss great Martina Hingis.

The 42-year-old Bopanna, who won his only major title at the French Open, winning the mixed doubles with Canadian Gabriela Dabrowski, said seizing the momentum in tie break was crucial. "As Sania mentioned it was a tough team we were playing against. It is not easy to keep the momentum going having lost that second set but we stayed strong and got an early lead and gave us that momentum," he said.

"Really happy to be sharing the court with Sania. (It's an) incredible journey, inspiring everyone back home and today so many fans here.

"One more to go. It would be an absolute dream (Sania winning the title). It can't get better than that. It will be special and we need it in India, keep inspiring everyone back there is the only way to keep it going." Out of Sania's six Grand Slams title, three are mixed doubles trophies which she won with Mahesh Bhupathi (2009 Australian Open, 2012 French Open) and Brazilian Bruno Soares (2014 US Open).
All three women's doubles titles came with Swiss great Martina Hingis. (Wimbledon 2015, US Open 2015 and Australian Open 2016).

With inputs from PTI