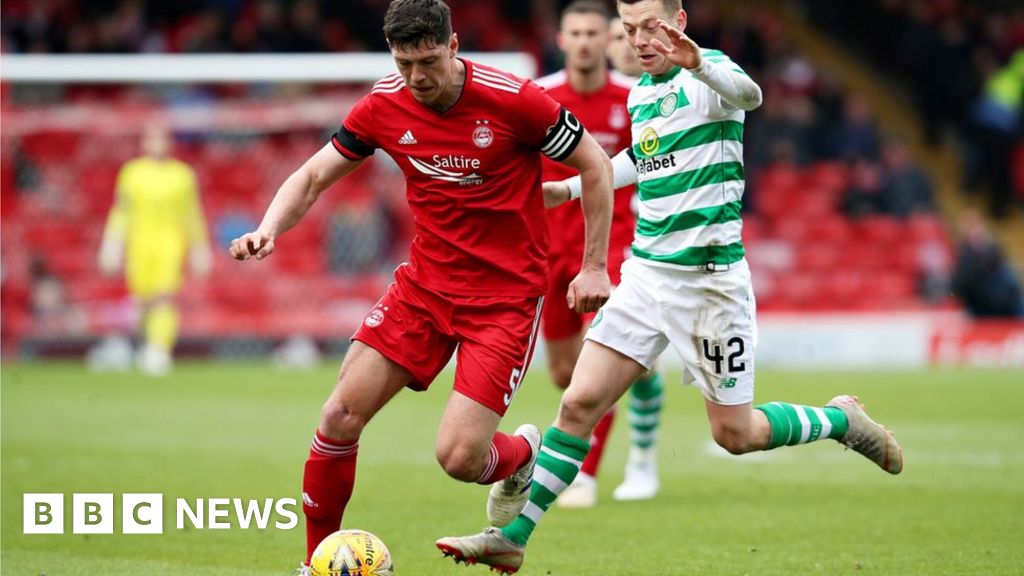 Celtic and Aberdeen should not be playing matches this week after their players broke lockdown rules, First Minister Nicola Sturgeon has said.
Celtic defender Boli Bolingoli flew to Spain without the club's knowledge, failed to quarantine, then played in Sunday's match against Kilmarnock.
Ms Sturgeon said this was a "flagrant breach" of the guidelines.
The previous weekend eight Aberdeen players broke lockdown regulations by visiting a bar together.
Ms Surgeon told her daily briefing: "As a minimum, you should not be expecting to see Aberdeen or Celtic play in the coming week."
The first minister said she did not want rule-abiding clubs and players, plus fans, to be punished for the individual breaches.
But she warned: "Consider today the yellow card. The next time it will be the red card because you will leave us with absolutely no choice."
What games were scheduled?
St Mirren v Celtic – Wednesday, 12 August at 18:00
Aberdeen v Hamilton – Wednesday, 12 August at 19:45
Celtic v Aberdeen – Saturday, 15 August at 15:00
Ms Sturgeon said news of Bolingoli's breach came through while the national clinical director, Professor Jason Leitch, was holding a meeting with the managers and captains of Scotland's top flight clubs to reinforce the importance of the guidance.
She said: "This is just not acceptable.
"Every day I stand here and ask members of the public to make huge sacrifices on how they live their lives. The vast majority are doing that and it's not easy. We can't have privileged football players just deciding that they are not going to bother. This can't go on."
Talks are continuing with the football authorities, and an update is expected later on Tuesday.
Celtic player apology
Ms Sturgeon indicated "very clear penalties" will be in place for players and clubs when the rules are breached.
Prof Leitch said footballers who flout the regulations not only pose a risk to public health but also endanger the return of all elite sport.
Bolingoli played in Sunday's match against Kilmarnock even though he should have been self-isolating.
The defender said he was "guilty of an error of judgement" and apologised.
Celtic apologised and said his actions were "beyond explanation". All players and backroom staff have since been tested twice and returned negative results.
Eight Aberdeen players have apologised for visiting a bar at the centre of a Covid-19 outbreak.
Two of the players later tested positive for the virus, while six are currently self-isolating.