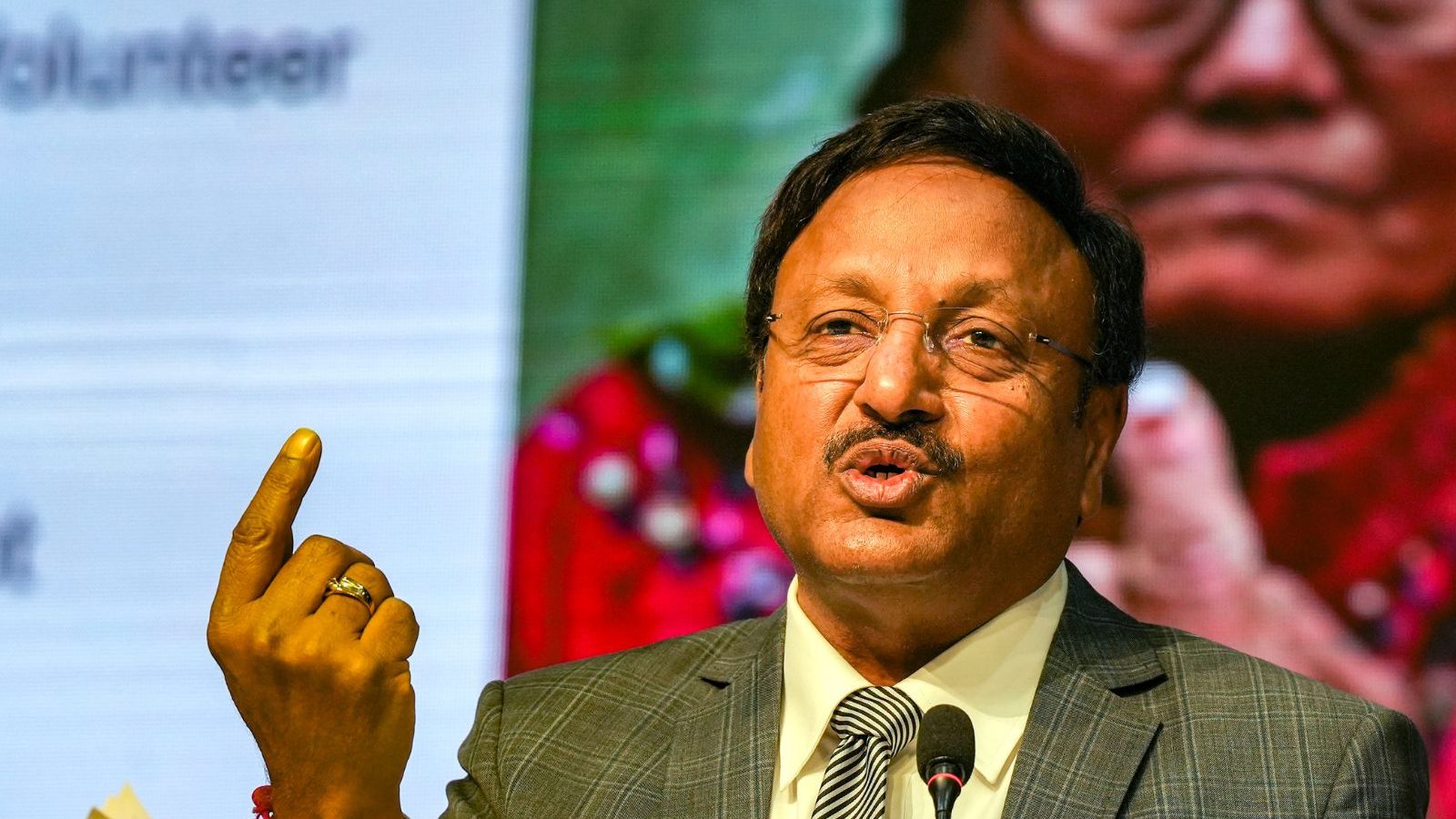 Edited By: Oindrila Mukherjee
Last Updated: January 19, 2023, 23:01 IST
Announcing the date for assembly election in Tripura, chief election commissioner Rajiv Kumar had said the ECI was committed and duty-bound to conduct free, fair, violence-free and inducement-free polls. (Image: PTI/File)
Tripura CEO said the DGP's report through the chief secretary has to be submitted by 3 pm on January 20
A political clash broke out in Tripura, only hours after the dates for the assembly elections were announced on Wednesday. Now, the Election Commission of India has asked the state chief electoral officer to get a report from the DGP about the incident and this has to be submitted by 3 pm on Friday (January 20).
"Election Commission of India has ordered an inquiry into the incident of political violence in Jirania sub-division of West Tripura district reported on January 18. The Election Commission of India has asked the chief electoral officer, Tripura, to obtain a report from DGP Tripura through the chief secretary, Tripura, and submit it by 3 pm on January 20," the Tripura CEO said in a series of tweets.
Election Commission of India has ordered Inquiry into the incident of Political Violence in Jirania Sub Division of West Tripura District reported on 18th Jan 2023. The Election Commission of India has asked— CEO, Tripura (@ceotripura) January 19, 2023
The ECI had announced on Wednesday that the northeastern state will go to polls on February 16 while the counting of votes will take place on March 2.
Hours after the polls were declared, the Congress alleged that 15 party workers and functionaries, including AICC general secretary Ajay Kumar, were injured after a group of "BJP-backed goons" attacked them during a bike rally in Tripura's Majlishpur constituency. Police, however, said the attacks were carried out by unknown miscreants in West Tripura district, and "10 party workers were injured".
While announcing the polls, chief election commissioner Rajiv Kumar had said the ECI was committed and duty-bound to conduct free, fair, violence-free and inducement-free elections.
"There is no place for violence in a democracy, we are working towards a violence-free election. There are only a few states where pre-poll and post-poll violence happens. The commission has spoken to the local authorities and all efforts will be made to ensure peaceful elections," he had said.
On Thursday, a three-member CPI(M) delegation led by its general secretary Sitaram Yechury met the ECI and submitted a memorandum, asking the poll body to undertake emergency measures for conducting a free and fair poll in Tripura, especially in view of recent violence.
Tipra Motha worker murdered
Another incident, that of the murder of a Tipra Motha worker, was also reported from the poll-bound state six hours after the dates were declared. The Tipra Motha Dal has accused the BJP of carrying out the act.
Police said a Tipra Motha leader from the Surma assembly constituency was returning home after a day's work, when he was attacked by unidentified miscreants. His car was first vandalised following which he was dragged out of the vehicle and fatally attacked on the head.
Tipra Motha chief Pradyot Kishore Manikya Debbarma appealed for peace in the build-up to the election and questioned the Election Commission's claims of "zero violence".
Read all the Latest Politics News here