The latest:
Brazil's coronavirus death toll surpasses 100,000.
India records nearly 64,000 new cases in the past 24 hours.
More than 2,700 active cases in Australia's Victoria state have no known source.
U.K. records more than 1,000 new infections for 1st time since late June.
The United States has now recorded more than five million cases of COVID-19, with more than 162,000 deaths, since identifying its first confirmed case of the new respiratory illness in January, according to data from Johns Hopkins University.
Health officials believe the actual number is perhaps 10 times higher, or closer to 50 million, given testing limitations and the fact that as many as 40 per cent of all those who are infected have no symptoms.
New cases of infection in the U.S. caused by the novel coronavirus run at about 54,000 a day — and while that's down from a peak of well over 70,000 last month, cases are rising in nearly 20 states.
Figures compiled this week show that five states — California, Texas, Florida, New York and Georgia — account for more than 40 per cent of infections.
On Saturday, U.S. President Donald Trump signed executive actions bypassing Congress to defer payroll taxes for some Americans and extend unemployment benefits after talks on a new coronavirus rescue package collapsed.
Trump accused Democrats of loading up their rescue bill with priorities unrelated to the coronavirus. "We've had it," he said Saturday at a news conference at his country club in Bedminster, N.J.
Trump said the payroll tax cut would apply to those earning less than $100,000 a year. Extra aid for the unemployed will total $400 a week, a cut from the $600 that just expired.
He also signed a memorandum holding off student loan payments and an executive order extending the freeze on evictions.
What's happening with coronavirus in Canada
As of 5 p.m. ET on Sunday, Canada had 119,451 confirmed and presumptive coronavirus cases. Provinces and territories listed 103,728 of those as recovered or resolved. A CBC News tally of deaths based on provincial reports, regional health information and CBC's reporting stood at 9,017.
Ontario reported its sixth-straight day of fewer than 100 new cases of COVID-19. There were 70 new cases of the novel coronavirus Saturday and one virus-related death.
In Quebec, the government plans to have students return to classrooms at the end of the month, but some parents want schools to offer an option for online learning.
Manitoba reported 35 new cases on Sunday, bringing the total number of active cases in the province to 182 — the highest since the beginning of the pandemic. 
Meanwhile, Saskatchewan reported 15 new cases, Newfoundland and Labrador saw no new cases over the weekend, and Nova Scotia hasn't seen a new case in a week. Both N.L. and N.S. have one active case each.
To date, labs across 🇨🇦 have tested 4,404,038 people for <a href="https://twitter.com/hashtag/COVID19?src=hash&amp;ref_src=twsrc%5Etfw">#COVID19</a>, w an average ~3% positive overall. Over the past week, an average of 48,360 people have been tested daily (w ~1% +ve) as <a href="https://twitter.com/hashtag/publichealth?src=hash&amp;ref_src=twsrc%5Etfw">#publichealth</a> continues to <a href="https://twitter.com/hashtag/TestandTrace?src=hash&amp;ref_src=twsrc%5Etfw">#TestandTrace</a>.

&mdash;@CPHO_Canada
Here's what's happening around the world
According to Johns Hopkins University, the global total of confirmed coronavirus cases tops 19.7 million and more than 728,000 people have died. The United States has had the most cases, with more than 5 million, followed by Brazil with more than 3 million and India with more than 2.1 million.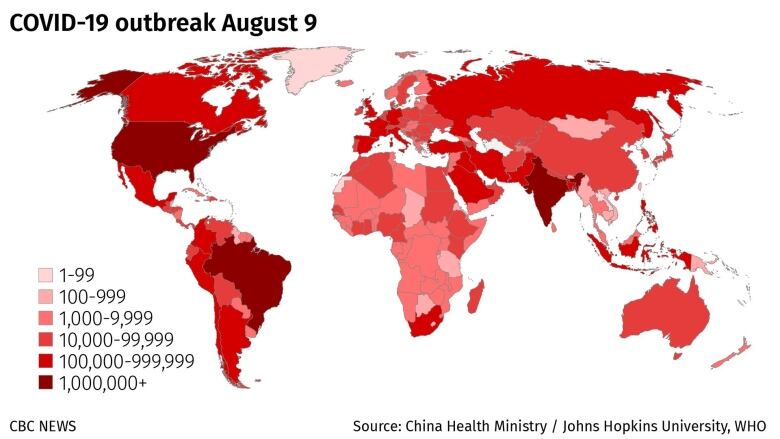 China reported on Monday local time 49 new coronavirus cases in the mainland for Aug. 9, compared with 23 cases a day earlier, the health authority said. The National Health Commission said in a statement 35 of the new infections were imported cases. There were no new deaths.
As of Aug. 9, mainland China had a total of 84,668 confirmed coronavirus cases, it said. China's death toll from the coronavirus remained unchanged at 4,634.
In Europe, Greek authorities have announced a record daily number of 203 new coronavirus cases. Beginning Monday and ending Aug. 31, everyone must wear a mask in all retail places, as well as all modes of transport other than private cars, the government has decided. People attending church must also do so, though priests are not required to wear masks in church.
Britain recorded more than 1,000 new coronavirus infections in a day for the first time since late June. Britain has seen a gradual rise in coronavirus infections since it began lifting lockdown restrictions in mid-June. The government has put the next stage of reopening, which had been due to take effect Aug. 1, on hold for at least two weeks.
In Asia-Pacific, the premier of Australia's Victoria state said more than 2,700 active cases have no known source and remain the primary concern of health authorities. Premier Daniel Andrews said confirmed cases also include almost 1,000 health-care workers. The city of Melbourne has been under tough restrictions since a week ago, including an overnight curfew and mandatory wearing of masks, but officials won't see the results of their efforts for another one to two weeks.
The Indian Medical Association said 196 doctors have died of COVID-19 so far and, in an open letter to Prime Minister Narendra Modi, requested adequate care for physicians and their families. The Health Ministry on Sunday recorded nearly 64,000 new coronavirus cases in the past 24 hours for a total of 2,153,010. At least 628,747 patients are still undergoing treatment. India also recorded 861 fatalities, driving the death toll to 43,379.
In the Americas, Brazil has surpassed a grim milestone — 100,000 deaths from COVID-19. And five months after the first reported case, the country is showing no signs of crushing the disease.
The country of 210 million people has been reporting an average of more than 1,000 daily deaths from the pandemic since late May, and 905 were recorded in the latest 24-hour period to put Brazil above 100,000. The Health Ministry also said there have been a total of 3,012,412 confirmed infections. The totals are second only to the United States. And experts believe both numbers are severe undercounts due to insufficient testing.
In Africa, South Africa's number of confirmed coronavirus deaths has surpassed 10,000. The Health Department said the country with the world's fifth-largest caseload now has 553,188 cases and 10,210 deaths.
South Africa makes up more than half the infections on the African continent, where the total number of cases this past week surpassed one million. Experts say the actual number of cases is several times that amount, given the shortage of testing materials and people can have the virus without symptoms.