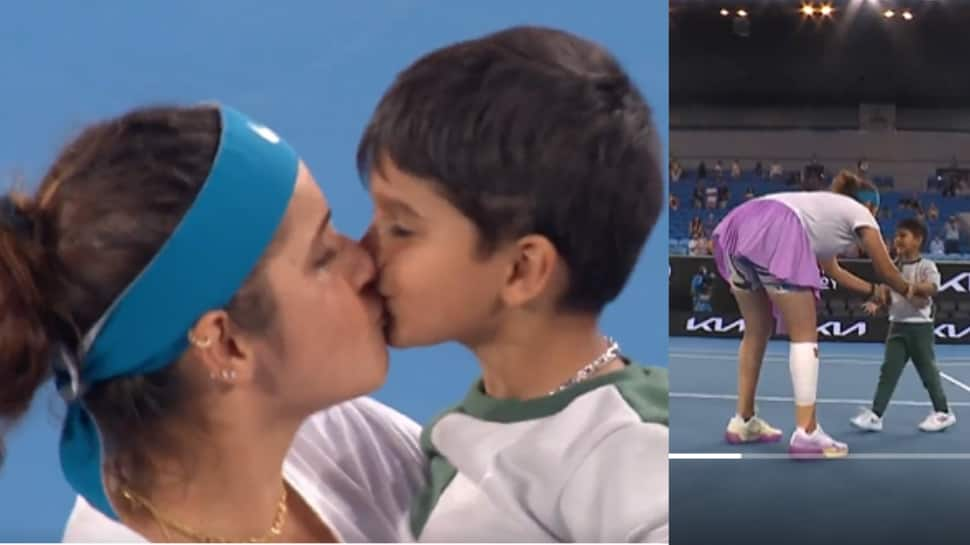 India's tennis legend Sania Mirza entered the final of the Mixed Doubles at the Australian Open 2023 alongwith Rohan Bopanna. Sania, who is 36, is playing her last Grand Slam in Melbourne. She had announced ahead of the Australian Open that it would be her last Grand Slam as she wanted to finish here as AO was the first Grand Slam of her career. But not to forget, Sania will play in Dubai next month too and will sign off from professional tennis over there. Coming to the semi-finals match, a beautiful happened for Sania after she entered the final. 
Also Read | From marrying Shoaib Malik to getting death threats for disrespecting Indian national flag – Top 5 controversies involving Sania Mirza – In Pics

Sania's four-year-old son Izhaan Mirza Malik came running towards her to hug her and the mother could not resist kissing her cutiepie. It was an adorable moment as Rohan Bopanna too shared a similar heartfelt moment with his daughter. The 36-year-old Sania said that it is quite special to make it to a final in her last Grand Slam and to do with Rohan, who was her first tennis partner makes it extra special.

Watch Sania Mirza hugging herson Izhaan here:

Wholesome content alert _@MirzaSania's son, Izhaan, ran out on court to celebrate her reaching the #AusOpen mixed doubles final _#AO2023 pic.twitter.com/VLiHGSRgiN


— #AusOpen (@AustralianOpen) January 25, 2023
"It was an amazing match, there was a lot of nerves. It's my last slam and it's so special to play with Rohan. He was my first mixed doubles partner when I was 14 and today I'm 36 and he is 42 and we are still playing, we have a solid relationship," Sania said after the match.  

Sania and Bopanna will play the final on January 27 at Rod Laver Arena in Melbourne. They will play L Stefani and R Matos of Brazil in the summit clash. A few months ago, the news of her divorce from Shoaib Malik was floating around but the couple has not spoken on the same. Sania, for now, will be focussing on finishing her tennis career with a superb win.