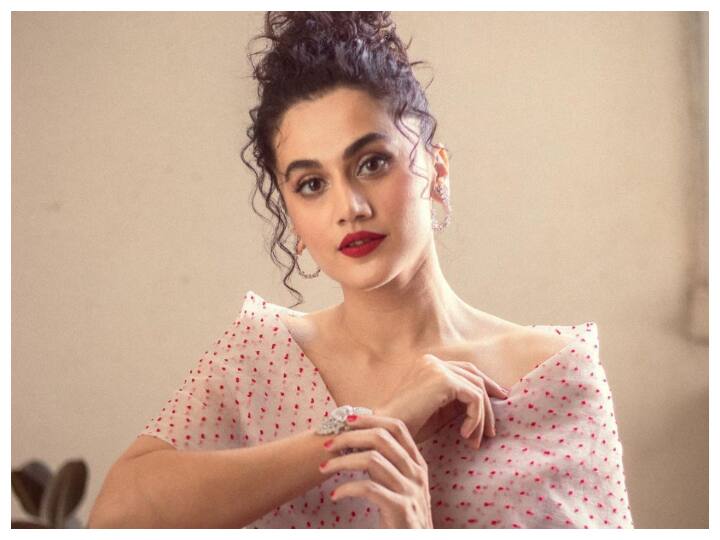 New Delhi: Taapsee Pannu is currently busy promoting her film 'Dobaaraa'. The actress recently got into an argument with the paparazzi while the promotion of her film. The incident happened when the actress reached for a promotional event at Mithibai College in Mumbai.  The argument started when the photographers asked her to wait for photos but when she didn't, they told her that they had been waiting for the past two hours.   
Now, in an interview with Bollywood Hungama, the 'Thappad' actress denied being rude to the paparazzi and said that a lot of photographers forget that the celebs are public figures and not public property. She also narrated the whole incident and said the person concerned was very rude towards her and a few members of the paparazzi take advantage of being behind the camera. 
"My only crime was, I was on the other side of the camera. Lately, with the social-media culture, anyone with a camera or a phone is a paparazzi. The camera gives you a one-sided narrative. It is very easy in today's day and age to target a person and demean that person by putting out one-sided videos. We are not morons. We are not illiterates to lose our cool on video without reason. I refuse to accept I was disrespectful to anyone. I was calm I kept smiling respectfully although that gentleman did not respect me at all. He kept making faces at me and he talked to me in a very derogatory tone. I did not want to retaliate. I folded my hands and accepted whatever he had to say," the actress was quoted as saying by Bollywood Hungama. 
In the video that was widely circulated, Taapsee was seen arriving at the venue and was immediately escorted inside while the paparazzi kept asking her to stop for the pictures. One of the photographers complained to her that they have been waiting for her for two hours and she is not stopping for the pictures. Taapsee got upset and asked the paparazzo to speak to her in a respectful manner and informed them that she is following the schedule she's been given.  
She said, "Mujhe jo bola gaya main kar rahi hoon, aap mere pe kyu chilla rahe ho? (I am doing whatever I have been asked to do, why are you yelling at me)." While the paparazzi told her that they are also waiting for her, Taapsee said to one paparazzo, "Please talk to me in a respectful manner, I am just doing my work. I have arrived on time at every place I have been asked to. You will talk to me respectfully, I will also talk to you respectfully."  
Taapsee added, "The camera is on me, so only my side can be seen. If it's on you for once then you would have realised how are you talking to me. After a while, Taapsee folded her hands and said, "Aap hi hamesha sahi hote ho, actor hi hamesha galat hota hai (You are always right, and actors are always at fault)." 
'Dobaaraa', which is a remake of the 2018 Spanish film 'Mirage', is scheduled to release on August 19.