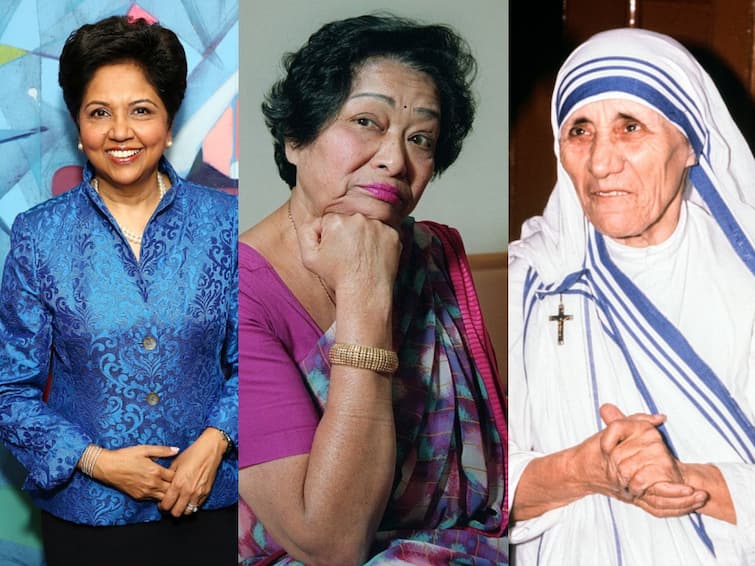 Women's Equality Day 2022: Women's Equality Day is celebrated every year on August 26, a day which coincides with the ratification of the 19th Amendment in the US, granting women the right to vote. This day is dedicated to uplifting and empowering women, as well as celebrating how far women have come in defying all odds.
Commemorating Women's Equality Day, let us remember quotes of some inspirational women who have blazed the trail and achieved enormous success, becoming role models for future generations.
Mother Teresa: "Not all of us can do great things. But we can do small things with great love," said Mother Teresa who won the Nobel Peace Prize in 1979. Her aim was to look after those who had nobody to look after them. She founded the Missionaries of Charity where she worked tirelessly towards her goal until her ill health. Her deteriorating condition forced her to step down in March 1997, following which she breathed the last in the month of September, the same year.

Kalpana Chawla: "If you want to do something, what does it matter where you are ranked," said Kalpana Chawla who was the first woman of Indian origin to go to space. She was an Indian-born American astronaut and mechanical engineer who flew on the space shuttle Columbia in 1997 as a mission specialist and primary robotic arm operator.

Kiran Bedi: "If I could, I would never walk. I would just jog or, even better, run," said Kiran Bedi who was the first woman to join the Indian Police Service. She has also implemented numerous reforms to protect women. She will always be an inspiration to many aspiring civil servants in India.

Indra Nooyi: "An important attribute of success is to be yourself. Never hide what makes you, you," said Indra Krishnamurthy Nooyi who is an Indian-American businesswoman best known as PepsiCo's Chief Executive Officer and Chairperson. She has consistently ranked among the world's 100 most powerful women and was ranked the second most powerful woman on the Fortune list in 2015 and 2017. She also serves on the boards of Amazon and the International Cricket Council.

Arundhati Roy: "Pity the nation that has to silence its writers for speaking their minds," said Arundhati Roy who is an Indian author best known for her novel The God of Small Things. The book won the Man Booker Prize for Fiction in 1997. She is also a political activist involved in Human Rights and environmental causes.

Neerja Bhanot: "Do your duty, come what may. Never tolerate any injustice and never compromise on self-respect," said Neerja Bhanot- the 22-year-old flight attendant who, in 1986, saved hundreds of passengers on Pan Am Flight 73 after it was hijacked in Karachi. She was awarded the Ashoka Chakra by India and the Tamgha-e-Pakistan by Pakistan posthumously. While assisting passengers to use an emergency exit, she was shot dead just two days before her 23rd birthday.

Shakuntala Devi: "What is mathematics? It is only a systematic effort of solving puzzles posed by nature," said Shakuntala Devi who is famously known as 'Human Computer' because of her skills in large mental calculations. In 1982, she proved she could multiply two 13-digit numbers in 28 seconds by showing how to do it. Her performance earned her a place in the Guinness Book of World Records. Despite Devi setting the record on June 18, 1980, at Imperial College in London, the record was only recognised posthumously on July 30, 2020.

Indira Gandhi: "The power to question is the basis of all human progress," said Indira Gandhi who was the first and the only female Prime Minister of India to date. She was the second-longest-serving Indian prime minister in office from January 1966 to March 1977 and again from January 1980 until her assassination in October 1984. Gandhi's political intransigence and unprecedented centralisation of power during her time as prime minister are well-known. She waged war against Pakistan in support of the East Pakistan movement for the war of independence.

Mary Kom: "The truth is, the harder you fight, the sweeter are the rewards in the end," said Mary Kom who is an Indian Olympic Boxer to make waves in International Sports by becoming the World Amateur Boxing Champion for a record six times. She is the only Indian female boxer to have qualified for the 2012 Summer Olympics, where she won a bronze medal in the flyweight (51 kg) division and the first Indian female boxer to win a gold medal at the Asian Games in Incheon, South Korea, in 2014. She is also the first Indian female boxer to win gold at the Commonwealth Games in 2018.

Marie Curie: "Be less curious about people and more curious about ideas," said Marie Curie who was the first woman to receive the Nobel prize, not just once, but twice. She influenced the direction of science and medicine. Because of her discoveries of two powerful elements, polonium and radium, most cancers and other illnesses are now potentially curable. Despite coming from a low-income family, Marie Curie, later known as Madam Curie, forged her own path to help humanity. She is an excellent role model for those who want to accomplish something in life despite a lack of resources.

Malala Yousafzai: "When the whole world is silent, even one voice becomes powerful," said Malala who is the world's youngest Nobel laureate winning the award at the age of 17 years. She is well-known for her human rights advocacy, particularly for the education of women and children in her home state of Swat, Khyber Pakhtunkhwa, where the Pakistani Taliban has occasionally prohibited girls from attending school. Her advocacy has grown into an international movement, and she has become Pakistan's "most prominent citizen," according to former Prime Minister Shahid Khaqan Abbasi.